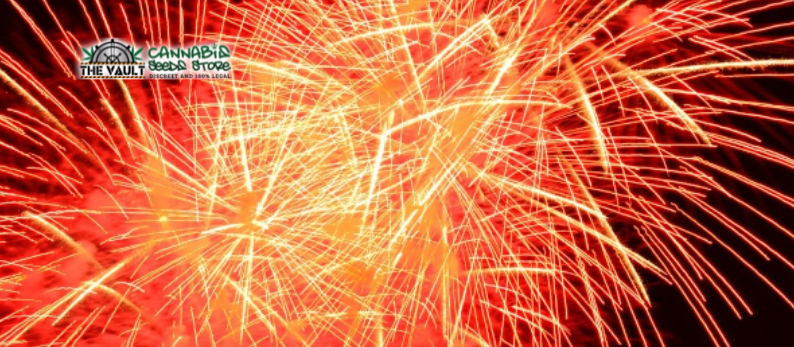 It's that time of year again, well really for the first time in a while, where Edinburgh fills to the brim with tourists, artists, and actors looking to enjoy one of the world's biggest arts festivals. And honestly, what would theatre, art, or music be without weed? They go together perfectly and definitely enhance each other. However, we can't just start carelessly toking around any old show and hope to have the best time. There are different strains that are definitely better suited to certain shows as well as to the general hustle and bustle of a festival. I don't know about you but I don't want to be tired and paranoid while moving through the millions of people crammed into the city centre. So let's have a look at all the very best strains to help you get the most out of this year's Fringe Festival.
Pineapple Chunk
Since Edinburgh has actually been blessed with some bouts of beautiful weather this year you will definitely want to head to the Meadows during the Fringe. Pineapple chunk is a delicious and earthy Indica strain that is ideal for chilling outdoors and taking in some performances. Not only is it tasty and tropical but has an amazing 25% THC level so it's definitely not for the faint of heart. This strain is also ideal for growing in confusing and undulating temperatures because it is resistant to mold and is fast flowering. Now, the listed effect for this baby is couch lock so don't pick this as one of your running around seeing free fringe strains. This is for sitting on a blanket and listening to the variety of buskers and performers while you sun yourself in this ridiculous heat. Pineapple Chunk has a flowering time of 55 – 60 days and will grow well indoors, outdoors or in a greenhouse. 
Green Crack
Ok, so this bad boy comes up a lot for this sort of venture but honestly, it's the best option if you're having a full on and intense festival day. The name gives it away but essentially this strain is the absolute best for keeping that energy up. She is thought to be one of the finest daytime strains out there both for recreational and medicinal use. So that covers the scampering side of your day at the Fringe, but what about enhancing your enjoyment of theatre? Green Crack can do it all, her effect is extremely stimulating and cerebral, meaning you'll get the most out of the Fringe whether it's rubbish-free improv or a slightly more impressive £15 show in a pub basement. Green Crack has a flowering time of 58 – 65 days and can be grown indoors or outdoors. 
Sour Diesel 
Another classic, Sour Diesel is an amazing strain for Fringe based socialising and getting involved with some of the more interactive entertainments. This strain is well known for being creative, chatty, stimulating, cerebral, energetic, and happy. If you had a full day planned with your friends and aren't feeling up to it then Sour Diesel could definitely help you out. I would call this the ideal free Fringe strain as it will put you in an amazing mood and guarantee you enjoy any show you get led into by a stranger in a pub. Sour Diesel does have a THC percentage of 21% so she isn't weak by any stretch of the imagination. However, if you are careful, she will be an ideal festival companion. She has a flowering time of around 63 days and can be grown indoors or outdoors. 
LSD
The Fringe isn't all theatre and comedy, there is plenty of fantastic music to go and see. LSD is the strain for that. If you want to go to the Jazz Bar and sit in a darkened corner with a drink and enjoy some extremely talented musicians then this is the perfect strain. It's relaxed without making you sleepy and will let the music sink deep into the wrinkles of your brain. This can also be perfect for winding down at the end of a long day running around in the sun. LSD is certainly calming but it is also talkative, uplifting, and happy so ideal for a post fringe pint or just hanging out with people in a park taking in the last of the sun. LSD has a flowering time of 64 – 70 days and will grow well indoors, outdoors, or in a greenhouse. N.b. If you ask your provider for LSD be very specific that you mean the strain or your day at the Fringe might get weird. 
Wedding Cake
Though I've mentioned that not all of the Fringe is comedy, a lot of it is. So here is a great strain for laughing your proverbial buns off at your favourite comedians. Or even just random ones you found somewhere. This euphoric, happy, and stimulating strain is bound to increase your giggles and make seeing a bunch of one-man comedy shows an absolute treat. Be careful how much you smoke beforehand though, you don't want to be the one person laughing like a complete drain right from the start while everyone else chuckles. This fantastic strain isn't just for recreational use but is one of the most impressive medicinal strains around. She is often used to treat the symptoms of insomnia, appetite loss, cancer, depression, pain, rheumatism, migraines, and stress. So if you are suffering from any of these issues it can just give you the boost you need to get out of the house and really enjoy the festival. Her THC level is around 19% and up so maybe start off slowly and increase at intervals throughout the day. She has a flowering time of 50 – 55 days and can be grown indoors, outdoors, or in a greenhouse. 
And that's it on best strains for the Fringe Festival. This is our first proper year back so get out there and support the arts in whatever way you can. Remember a preference payment for a ticket doesn't mean free you scamps, give the performers what you can. Have an amazing time! 
Written by Tasha Porritt
Newsletter Sign Up
Make sure you never miss another Vault promo – sign up for our newsletter at https://www.cannabis-seeds-store.co.uk/the-vault-newsletter
Remember: It is illegal to germinate cannabis seeds in many countries including the UK.  It is our duty to inform you of this fact and to urge you to obey all of your local laws to the letter.  The Vault only ever sells or sends out seeds for souvenir, collection or novelty purposes.
Photo by Chris Flexen on Unsplash
The post Best Strains For The Edinburgh Fringe Festival first appeared on Cannabis Seeds News.
Source: https://www.cannabis-seeds-store.co.uk/Cannabis-Seeds-News/best-strains-for-the-edinburgh-fringe-festival