prep time: 20 minutes
yield: 4 servings
total thc/cbd: depends on the potency of the products used
status: killer green toasts
cannabis pantry: cannabis butter, cannabis infused hot sauce, infused olive oil, fresh young cannabis leaves
strain recommendation: cali orange
equipment needed
2 medium stainless-steel mixing bowls, large fork, mandolin, chef's knife, cutting board, toaster, butter knife, serving platter or plates
provisions needed
4 pieces thick cut artisan sourdough bread
2 tbsp cannabis butter (made in the mb2e)
1 cup fresh peas
2 just barely ripe avocados
1 tbsp fresh squeezed lemon juice
1 tsp cannabis infused hot sauce (made in the mb2e)
1 tsp jacobsen sea salt
½ tsp fresh cracked black pepper
2 tbsp cannabis infused olive oil (made in the mb2e)
1 cup fresh young cannabis or hemp leaves
1 cup fresh young pea vines or tendrils
¼ cup shaved radishes
¼ micro cilantro leaves
¼ cup honesty pods (lunaria)
12-15 honesty flowers (lunaria)
1 tbsp tiny mint leaves
2 tbsp toasted hemp hearts
several pinches fine ground red chili flakes
several pinches wild fennel pollen (optional)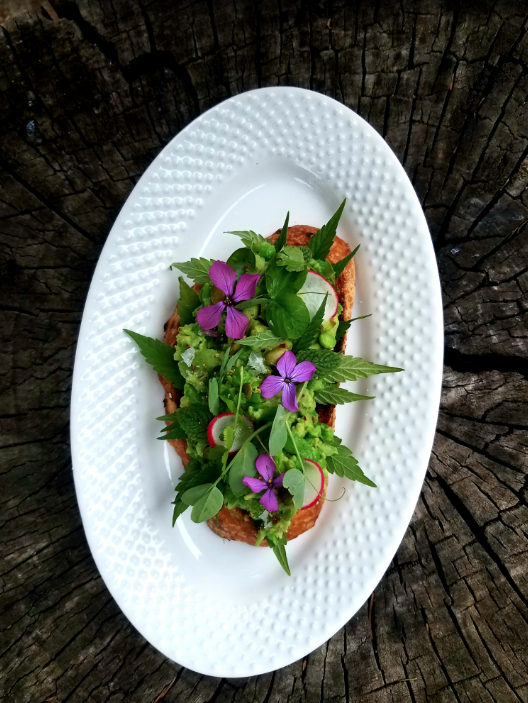 how to make it
-in a bowl with a fork smash the peas roughly.
-peal the avocado and in a bowl with a fork then smash.
-mix the smashed peas, smashed avocado, fresh lemon juice, cannabis hot sauce, cannabis olive oil, and a pinch of salt and pepper.
-toast the 4 pieces of sourdough to your desired doneness, butter each piece evenly with the cannabutter.
-top each piece of toast with a few fresh cannabis leaves and pea vines.
-top each piece of toast with a mound of avocado and pea mix, dividing evenly between all 4 pieces.
-now, adorn each piece of toast with an even amount of each: cilantro, honesty pods, mint leaves, hemp hearts, chili flakes, fennel pollen, shaved radishes, and flowers.
-sprinkle each toast with salt and pepper.
-serve and enjoy with utter delight.
equipment + product source
www.magicalbutter.com    (mb2e botanical extractor)
www.jacobsensaltco.com (oregon sea salt)
by #theshortordercannabisrevolutionary   chef sebastian carosi     @chef_sebastian_carosi on Instagram
Written and Published by Chef Sebastian in Weed World Magazine Issue 156
The post Cooking with Carosi – Sativa Smashed Cali Avacado + Pea Toast appeared first on Weed World Magazine.
Source: https://www.weedworldmagazine.org/2022/06/01/cooking-with-carosi-sativa-smashed-cali-avacado-pea-toast/?utm_source=rss&utm_medium=rss&utm_campaign=cooking-with-carosi-sativa-smashed-cali-avacado-pea-toast