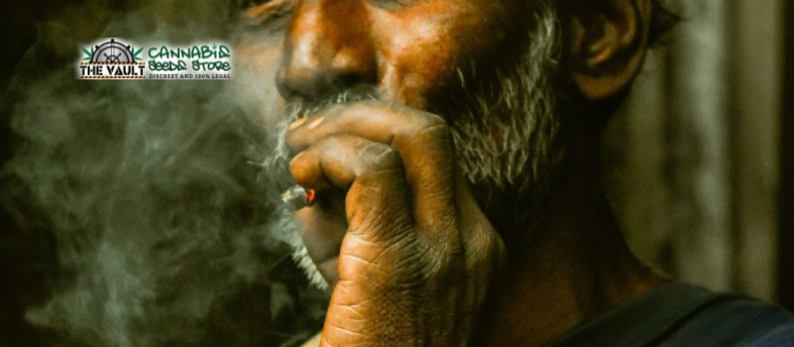 It's that time of year again when we celebrate our dear old dads. Since it's 2022 there are probably more than a few of you out there who's dads enjoy a puff or two. I can also basically guarantee you have at some point said the phrase "Oh my god he is impossible to shop for." So this year why not have a look through some of these fantastic gifts for stoner dads. Honestly these are just generally great gifts for anyone who smokes but yeah, father's day is super soon and I bet you've been stuck on what to get. 
Bong Appetit
If your dad is anything like mine he's a fan of weed but also a big fan of cooking. Since I was a small child my dad has been master of the kitchen, well except for lasagna which is my mum's wheelhouse. For the dad who already knows everything about cooking, this is the one recipe book that will still give them some new ideas and recipes to try as well as just teaching them about cannabis cooking in general. The book is based on the popular tv series of the same name. This isn't your average collection of weed recipes, it contains much more than brownies and cookies. Anyone who regularly reads these posts will know I've always been a fan of savoury cannabis cooking as well as the traditional sweet options. Bong Appetite: Mastering the Art of Cooking with Weed is chock full of a wide variety of impressive and upscale recipes. Perfect for having a fancy stoner dinner party or just making a treat for themselves. 
Magical Butter Machine
While we are on the subject of cooking this is another excellent gift for your kitchen bound stoner father. Also a great companion gift if you have siblings that can't think of anything to get them. The Magical Butter Machine is amazingly not just for butter. Basically it is a decarboxylating and infusing machine that is great for making all sorts of fantastic cannabis based bits and pieces. Of course, it can be used to make cannabutter as well as cannaoil for cooking without all of the muss and fuss usually involved. Literally this machine just takes a touch of a button and takes all the human error out of carboxylating and infusing giving you perfect butter, or whatever product, every time. The extra good thing about this is that the average dad is pretty into weird and essentially unnecessary luxury gadgets. 
Hydroponic Starter Kit
This is obviously one for those of you who live where growing is legal. I mean all of these should only be bought for dads who live in legal places. There I've done my disclaimer, now the rest is up to you. This handy little kit is the ideal gift for dads who either have been doing a small amount of home growing or who have been talking about doing it for ages. Probably along with bee keeping and getting a motorbike. This great little indoor smart garden can be used for pretty much any plants, so if they don't feel like growing weed all year round they can grow herbs instead. Dad's love herbs! The kit is super easy to set up and is a fantastic introduction to hydro growing. 
Hemp Crocs
Ok so I don't know about your dad but mine definitely wears crocs. I'm pretty sure that legally all dads have to own at least one pair. So if you have a dad who works in a kitchen like mine does or if your dad just loves having comfy feet and doesn't care about how he looks then hemp crocs are a fantastic stoner dad gift. I mean I'm assuming that's literally who they were designed for. I will say even though they are famously the most ugly shoes around they genuinely are insanely comfy and I think your dad's arches will thank you. 
Stash Jar
A cheap but awesome option for a gift is getting a humidity jar off Etsy. There are loads of options I've just linked to my personal favourite. The jar looks great, has a cute and subtle leaf design, and is humidity controlled for long lasting fresh weed. It's super easy to use as well, there is a little section in the lid where you put replaceable humidity packs to ensure weed doesn't go moist and mouldy. Keeping weed fresh keeps the THC alive and means that weed will last for much longer than it would if kept in a normal jar or, God forbid, a plastic bag. The lid also fully seals to make sure that there is no external humidity getting in there. Again there are all different levels of expense so something you can get on your own or maybe split with your siblings if you have any. 
21st Anniversary Copy of Mr Nice
Does your dad love reading stuff about things that happened ages ago? Sure he does! If your stoner dad has an interest in weed history then this lovely copy of Mr Nice is a fantastic gift. Mr Nice covers the fascinating life of Howard Marks, written by Howard Marks. I did a two parter article about the man himself a while back and I'll tell you one thing, if you think you know everything about him you're probably wrong. Unless you or your dad have read the book obviously but then this isn't a good gift to get him. Marks' life rattled through drug dealing, spying for the government, activism, insane relationships and so much more. Not only is it a copy of the book but it's a 21st Anniversary edition so your dad can put it on the shelf and tell everyone that it'll be worth triple one day. Get excited for your dad sitting and reading it in the living room then coming through to wherever you are every few minutes to tell you a new interesting fact. You might not be super happy but you can bet that he will and the day is about him, don't be so selfish. 
Written by Tasha Porritt
Newsletter Sign Up
Make sure you never miss another Vault promo – sign up for our newsletter at https://www.cannabis-seeds-store.co.uk/the-vault-newsletter
Remember: It is illegal to germinate cannabis seeds in many countries including the UK.  It is our duty to inform you of this fact and to urge you to obey all of your local laws to the letter.  The Vault only ever sells or sends out seeds for souvenir, collection or novelty purposes.
Photo by Uday Agastya on Unsplash
The post Fathers Day Gifts For Stoner Dads first appeared on Cannabis Seeds News.
Source: https://www.cannabis-seeds-store.co.uk/Cannabis-Seeds-News/fathers-day-gifts-for-stoner-dads