More than one-fourth of the U.S. Senate has signed onto a new bill that would increase criminal penalties for a wide range of offenses, including manufacturing or selling Schedule I drugs like marijuana in the form of candy or beverages if there is "reasonable cause to believe" they will be sold to minors.
While the bill, introduced by Sen. Chuck Grassley (R-IA) and 25 other GOP cosponsors last week, does not explicitly reference cannabis, it covers substances that are in Schedule I or II of the federal Controlled Substances Act.
And while certain states that have legalized marijuana have proactively taken steps to prohibit certain cannabis marketing that might appeal to children, many state markets continue to allow THC-infused beverages and sell edible gummies and cookies, for example.
Of course, every state that has legalized marijuana for adult use in the U.S. has set an age limit that prevents people under 21 from legally accessing cannabis shops. Those dispensaries, and the brands they sell, therefore generally would not seem to meet the criteria for knowingly selling to underage people. (Studies have found consistent compliance at marijuana shops when it comes to enforcing ID requirements.)
Under Obama era enforcement guidance from the Justice Department, which was later rescinded by then-Attorney General Jeff Session, federal prosecutors were told that instances where marijuana was being unlawfully diverted to youth should remain an enforcement priority.
If the Grassley legislation is enacted, one possible effect would be that people who are federally prosecuted for such criminal activity could face up to 10 additional years in prison for a first offense if the cannabis product sold to a person under 18 was shaped or flavored like candy. Second and subsequent offenses would carry up to 20 additional years in prison.
Legalization advocates largely support measures to restrict access to underage people, but some bristle at the possibility of enacting significantly increased penalties that could be applied by overzealous prosecutors as part of the war on drugs.
"It is really disappointing to see this kind of outdated 'tough on crime' bluster being applied once more to cannabis. It is pretty obvious at this point that severity of penalty does little to reduce unregulated market activity but rather raises the stakes in terms of money and violence involved," Morgan Fox, political director of NORML, told Marijuana Moment.
"As a society, we've been successfully moving from a criminal justice paradigm to one focused on public health for years," he said. "It would be tragic if those gains fell victim to the current cultural zeitgeist around crime rates, which I fear is fueled more by politics than the search for evidence-based solutions."
Steven Hawkins, CEO of the U.S. Cannabis Council, told Marijuana Moment that the "proposed legislation takes the wrong approach to addressing the real problem of underage cannabis use."
"We know from our nation's failed drug war that draconian sentencing is neither just nor effective," he said. "The best way to reduce underage access is to legalize and regulate cannabis. Sen. Grassley's proposal would instead double down on the failed policies of the past."
Where things could get murkier still with the new Senate bill is in the hemp market. The non-intoxicating crop and its derivatives like CBD are federally legal, but that's only the case if the hemp product contains no more than 0.3 percent THC by dry weight. Stakeholders have complained that the limit is arbitrary and imposes undue burden on manufacturers who remain worried about federal prosecution if their crop exceeds the THC limit, even if only temporarily when it's being processed, or if the final product inadvertently contains slightly more THC than is allowed.
—
Marijuana Moment is tracking more than 1,500 cannabis, psychedelics and drug policy bills in state legislatures and Congress this year. Patreon supporters pledging at least $25/month get access to our interactive maps, charts and hearing calendar so they don't miss any developments.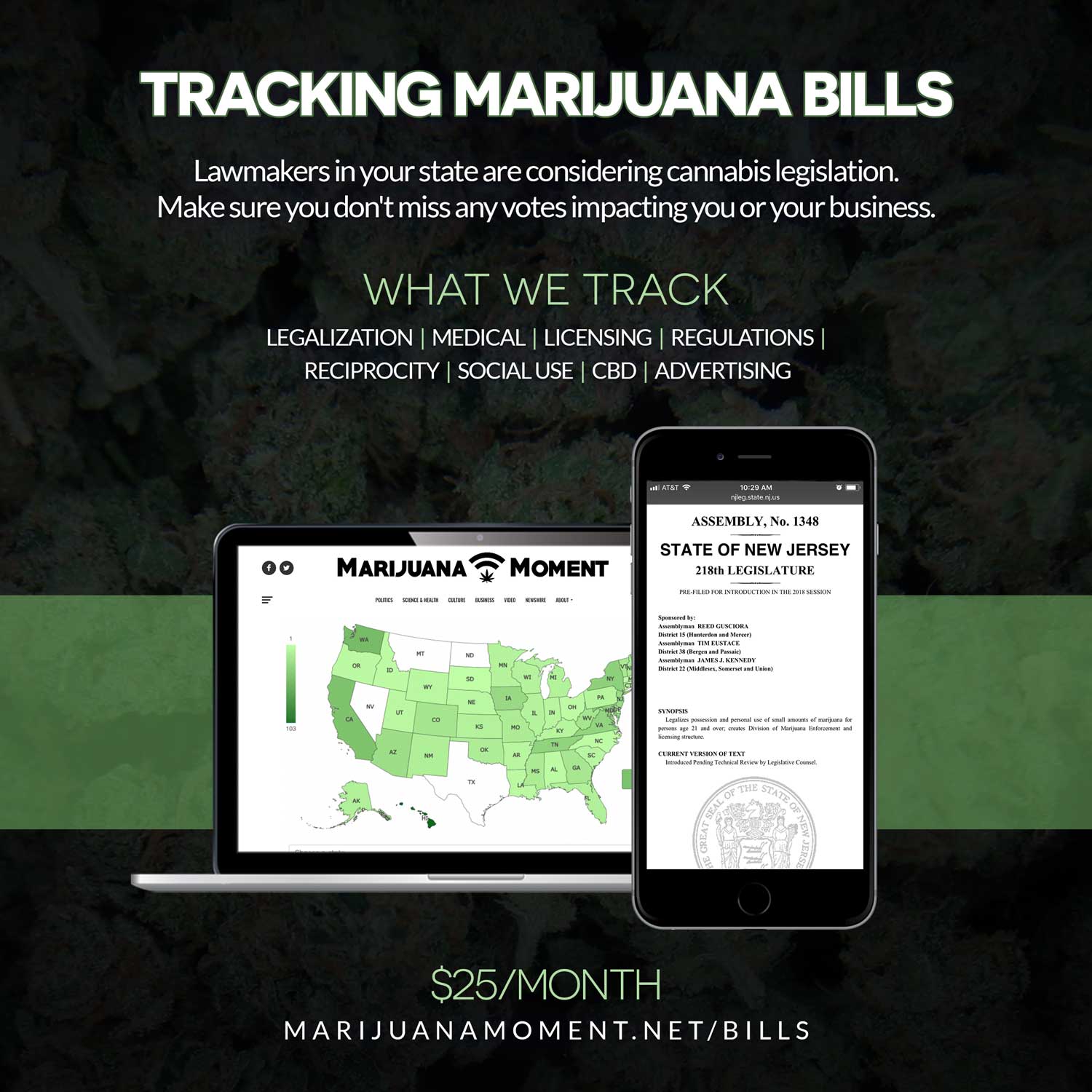 Learn more about our marijuana bill tracker and become a supporter on Patreon to get access.
—
While some lawmakers are hoping to increase the THC limit as part of standalone legislation or as part of the 2023 Farm Bill, as was discussed in a recent House Agriculture subcommittee hearing, the idea of enacting enhanced penalties could further have a chilling effect on the hemp industry when it comes to products such as cannabinoid-infused gummies.
The new bill does provide exceptions for the enhanced penalty, such as in cases where products are approved by the Food and Drug Administration (FDA). So selling cannabis that looks like candy to someone under 18 could add decades to a person's federal sentence—but candy-flavored, Schedule II amphetamines prescribed by doctors are fine.
"We have a duty to ensure that penalties for federal offenses serve as a deterrent and that any ambiguity from split court decisions is rectified so that perpetrators can be held accountable," Grassley, the lead sponsor of the legislation, said in a press release. "This bill includes a number of small fixes that will go a long way in improving justice and preventing future crimes."
A section-by-section analysis of the legislation—which largely focuses on combatting violent crimes such as homicide, bank robbery, carjacking and kidnapping—says that the drug candy penalties section was taken from an earlier bill that Grassley and Sen. Dianne Feinstein (D-CA) filed in 2017 that was not enacted and has not been reintroduced as a standalone measure this session. Those two senators have also recently teamed up on a bipartisan marijuana research bill, which already cleared the House and is expected to be taken up by the Senate soon.
But while the origin of the provision is from about five years ago, marijuana marketing has been a more recent source of debate among lawmakers, state officials and federal regulatory agencies like FDA.
In June, for example, a bipartisan coalition of 23 state attorneys general sent a letter to congressional leaders, demanding action to prevent the sale of copycat marijuana products that resemble popular food brands.
The letter, led by Virginia Attorney General Jason Miyares (R) and Nevada Attorney General Aaron Ford (D), said that the top state prosecutors are "gravely concerned about the dangers of copycat tetrahydrocannabinol (THC) edibles in our communities, particularly the risk they pose to our children."
The letter also references a notice released by FDA in May that warned consumers about marijuana-infused copycat food products that resemble popular brands and the risks of accidentally ingesting THC.
Taken together, this new Senate bill and the letter from state prosecutors speaks to the "widespread panicky media coverage of accidental pediatric ingestion cases involving unregulated products that would not be legal under pretty much any state cannabis laws," NORML's Fox said.
"Most of the coverage of these incidents skirted parental responsibility or the fact that these products are unregulated, instead generating outraged calls for the licensed industry to 'do something' that it has already been doing for years in conjunction with state regulators," he said.
Several major companies—including Pepsi, General Mills and Kellogg—also recently raised concerns about the misleading marketing trend in a separate letter to congressional lawmakers, requesting action to address the copycats.
Preventing underage marijuana use in particular is a shared goal among legalization advocates and prohibitionists alike. While federally funded studies have found that adolescent cannabis use has remained stable or even declined in states that have legalized and regulated marijuana, there's consensus that precautions should be taken to ensure that young people don't mistakenly consume cannabis.
Around Halloween last year, attorneys general from multiple states across the U.S. warned parents about illicit marijuana products that resemble popular candies and snacks like Cheetos, Nerds and Oreos, which could confuse kids and lead to accidental intoxication.
Activists have grown weary of sensationalized and often unsubstantiated reports of people giving away free marijuana edibles to children on the holiday, but it speaks to a larger trend that trade associations and FDA are warning about.
Biden Daughter-In-Law Reportedly Shopped At Marijuana Dispensary With Secret Service Protection As President Leaves Cannabis Prisoners Behind Bars
Photo courtesy of Pexels/Kindel Media.
The post GOP Senators File Bill To Increase Criminal Penalties For Selling Candy-Flavored Marijuana Products To Minors appeared first on Marijuana Moment.
Source: https://cannabisworld.biz/2022/08/02/gop-senators-file-bill-to-increase-criminal-penalties-for-selling-candy-flavored-marijuana-products-to-minors/