This week's CBD product review and up this time we have the very tasty Champagne Kush CBD Vape Cartridge from the guys over at Highkind Cannabis Co.
Highkind Cannabis Co, formerly known as Synergy Extracts are one of the market pioneers for premium quality CBD concentrates and vape cartridges.
The Champagne Kush CBD Vape Cartridge is part of Highkind's Limited Editions collection containing their most premium CBD vape oil infused with 100% cannabis-derived terpenes.
Each vape cartridge is completely free from MCT, PG and VG.
Highkind describe their Champagne Kush CBD Vape Cartridge as:
A strain with mood elevating effects that generally lead to a greater sense of calm and wellbeing.
Each cartridge contains the distilled cannabis oil from 5 Grams of CBD/Hemp flower and the vapour distilled terpene essential oil(essence) from 2.5 Grams of Premium, Grade A Cannabis Flowers.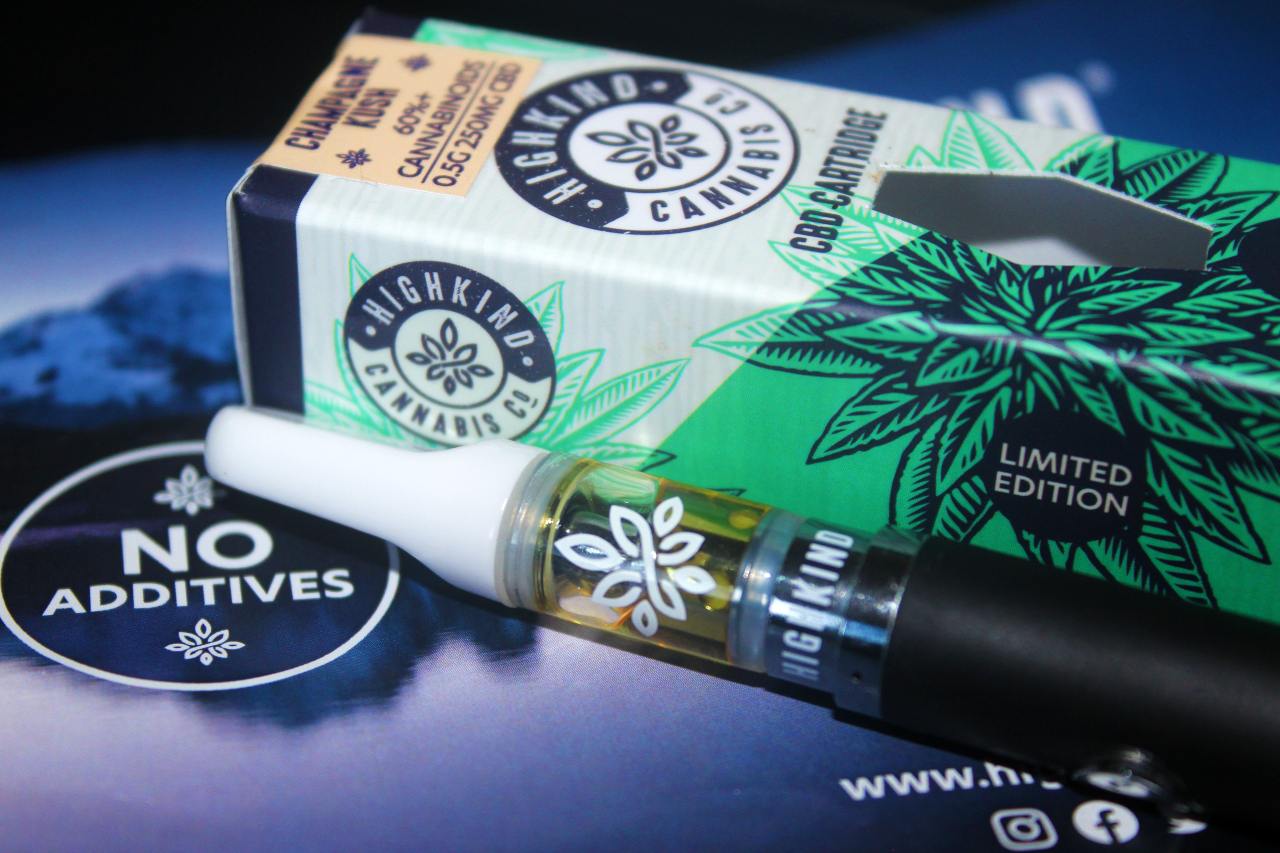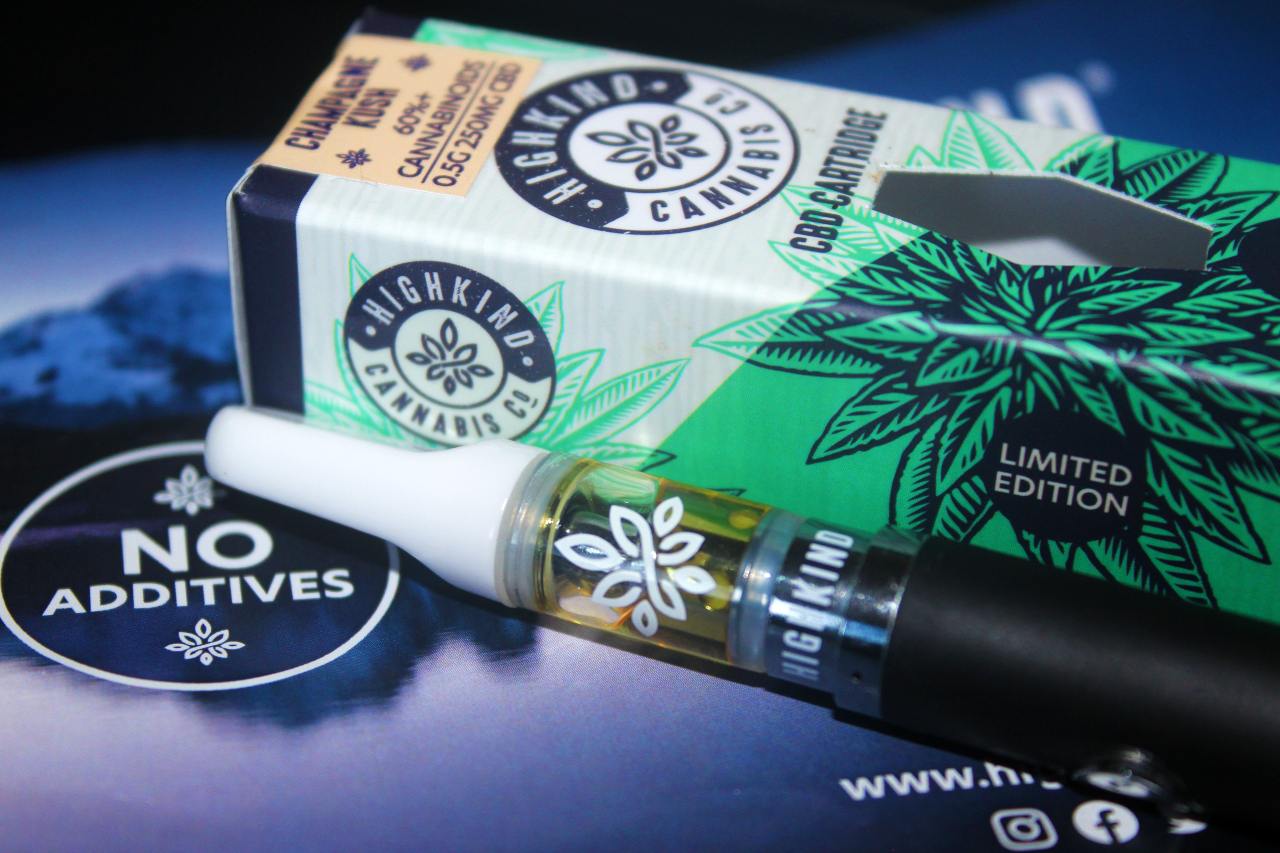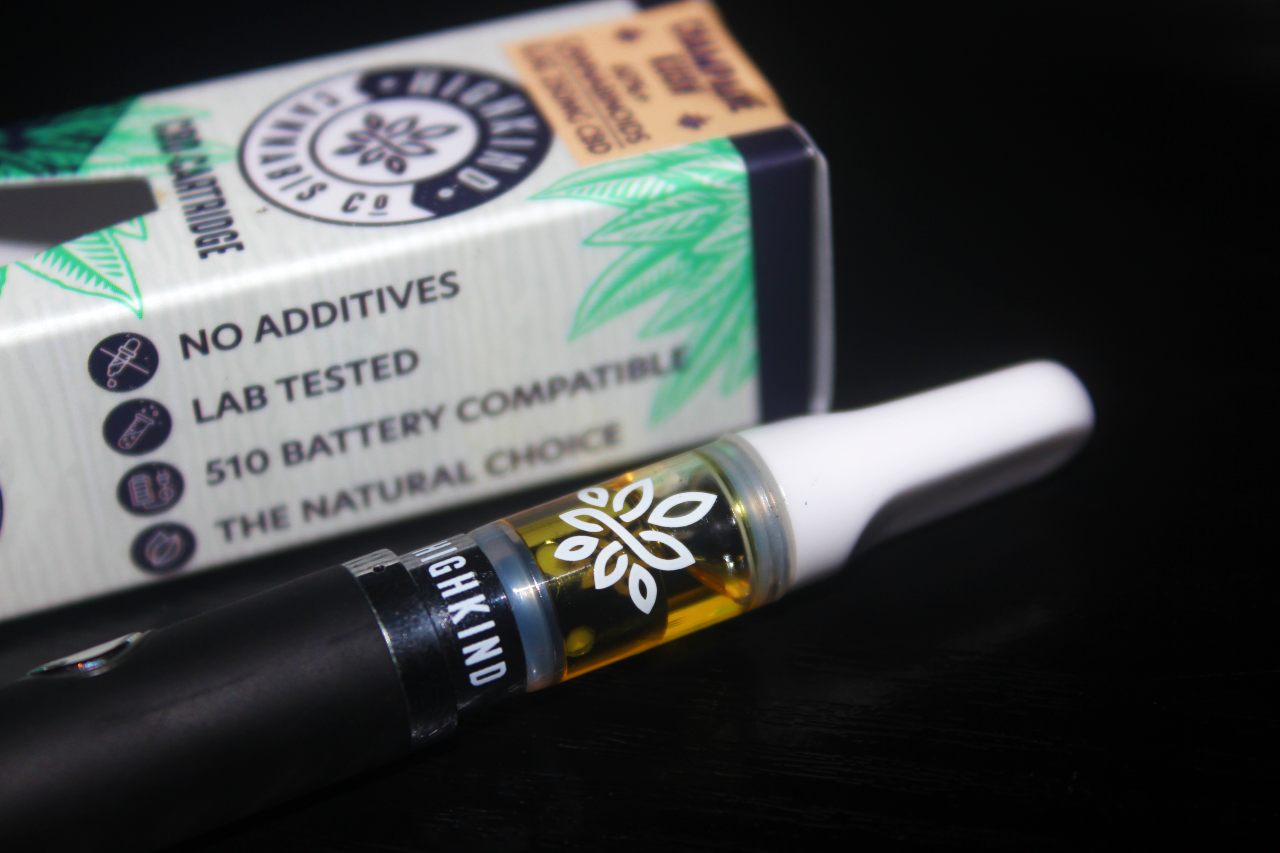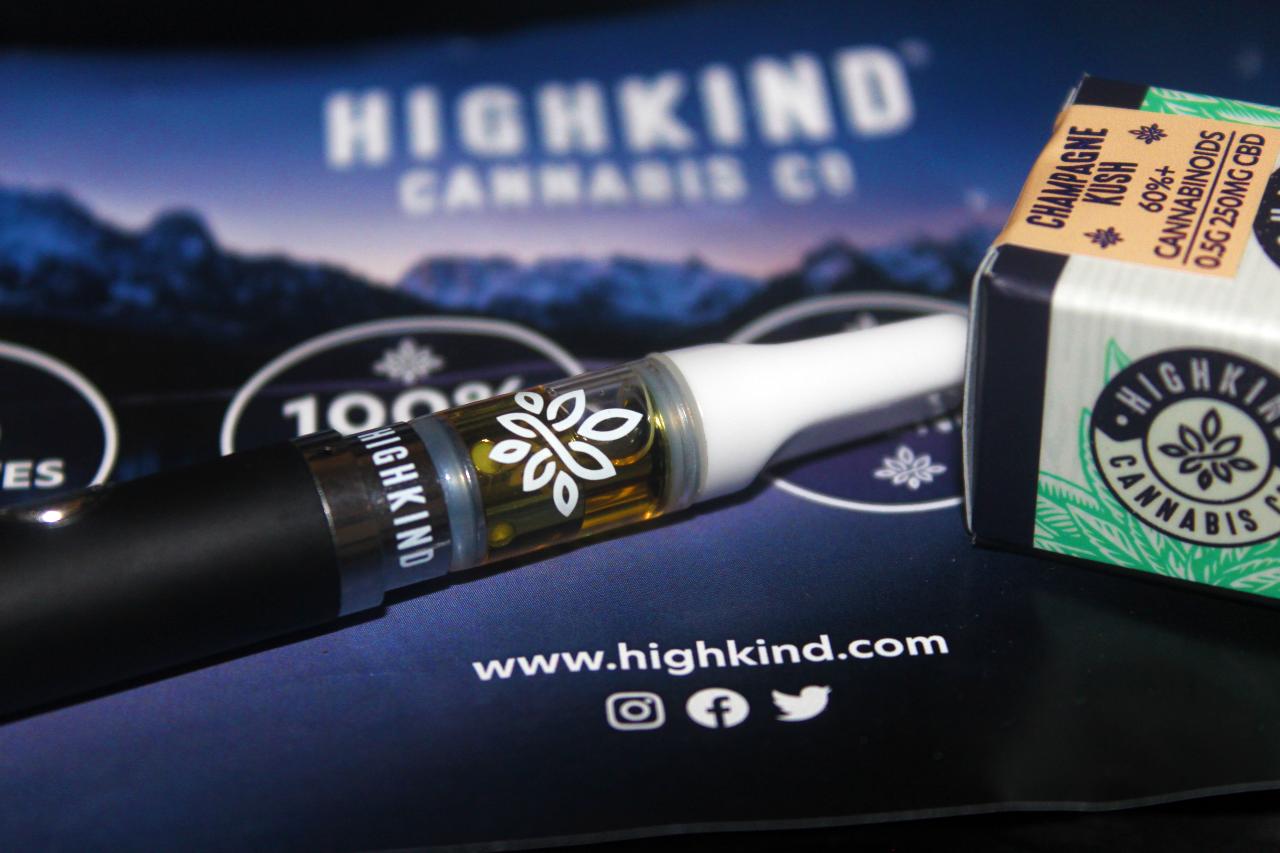 The CBD Blogger Review
Firstly I would like to start off the review by saying many thanks to Highkind Cannabis Co for generously gifting us samples of their quality CBD products to review here at The CBD Blog and for the continued support.
I have been a massive fan of Highkind's CBD products right back to the days when they were formerly known as Synergy Extracts.
Synergy Extracts were amongst some of my first experiences experimenting with quality CBD vape cartridges and extracts that had a range of tasty terpene profiles such as Lavender Kush.
Very generously Highkind Cannabis Co offered me the chance to review their Champagne Kush CBD Vape Cartridge and their Strawnana Purps CBD Crumble(review will be coming soon), so I couldn't pass up the chance to sample both.
Taste & Flavours:
Absolutely blown away with the taste and flavours from Highkind's Champagne Kush terpene profile, which is derived from 100% cannabis terpenes.
The Champagne Kush has some of the most authentic, hashy cannabis terps that I have sampled to date.
Has a really nice fizzy, kushy, almost black hash cannabis flavour.
Very satisfying flavour profile due to how authentic and comparable it is in taste to the real thing.  Almost like vaping some nice kushy dark hash.
10 out of 10 flavour on the Champagne Kush cannabis derived terpenes.
Definitely one for the authentic flavour chasers out there.
Packaging:
The Champagne Kush CBD Vape Cartridge comes packaged in a beautiful branded box as seen in the picture.
Box comes complete with branding and the classic strain profile sticker.
Huge fan of Highkind's branding and packaging, everything from the strain label stickers to the boxing, gives a very professional look.
Effect:
The Champagne Kush CBD Vape Cartridge has a CBD content of around 250mg per cart, with the total cannabinoids coming in at 60%.
Very nice potent effect from the Champagne Kush CBD Vape Cartridge, all I need is a couple of small vapes and you get a very pleasant relaxing, calming Indica CBD effect wash over you.
Whilst the Champagne Kush leans slightly to the Indica dominant side of things, it is a very balanced terpene profile overall and I enjoy it through the day mostly due to its balanced effect.
Enough to give you a nice strong medicinal Indica CBD effect, but with virtually no heavy body load, tiring or couch lock once again, which is perfect for through the day use.
Definitely one of the most satisfying and authentic CBD vape cartridges currently out there on the market for effect.
Price wise extremely competitive for the level of quality on offer at £29.99 per cartridge and given you only need a small amount it works out a very economical way to medicate your CBD needs.
Overall:
Another amazing product from the team at Highkind Cannabis Co.
Definitely one of the best CBD Vape Cartridges currently available on the UK market, would highly recommend for our readers looking for a CBD vape cart experience that is as close to the real thing as possible.
Everything from the flavour to the impressive potent medicinal CBD effect, the Champagne Kush is a 10 out of 10 product in my opinion.
Highly recommend.
Highkind Cannabis Co have also recently released a line of limited edition dry/cured terpene profiles, which you can read more about at: Highkind Cannabis Co – Brand New Dry/Cured Cannabis Terpene Limited Edition Flavours
Information
Price
£29.99
Profile
Terpene Profile: Champagne Kush
Terpenes: Fresh/Live Cannabis Flower Terpenes
Vendor: Highkind Cannabis Co
CBD Content: 250mg

Total Cannabinoid Content: 60%
Size: 0.5g Uncut Full-Spectrum Oil
Where To Purchase
Our readers can get a very generous 10% discount off orders at Highkind Cannabis Co using our code and link below: THECBDBLOG
For more information or to purchase check out Highkind Cannabis Co at: Highkind Cannabis Co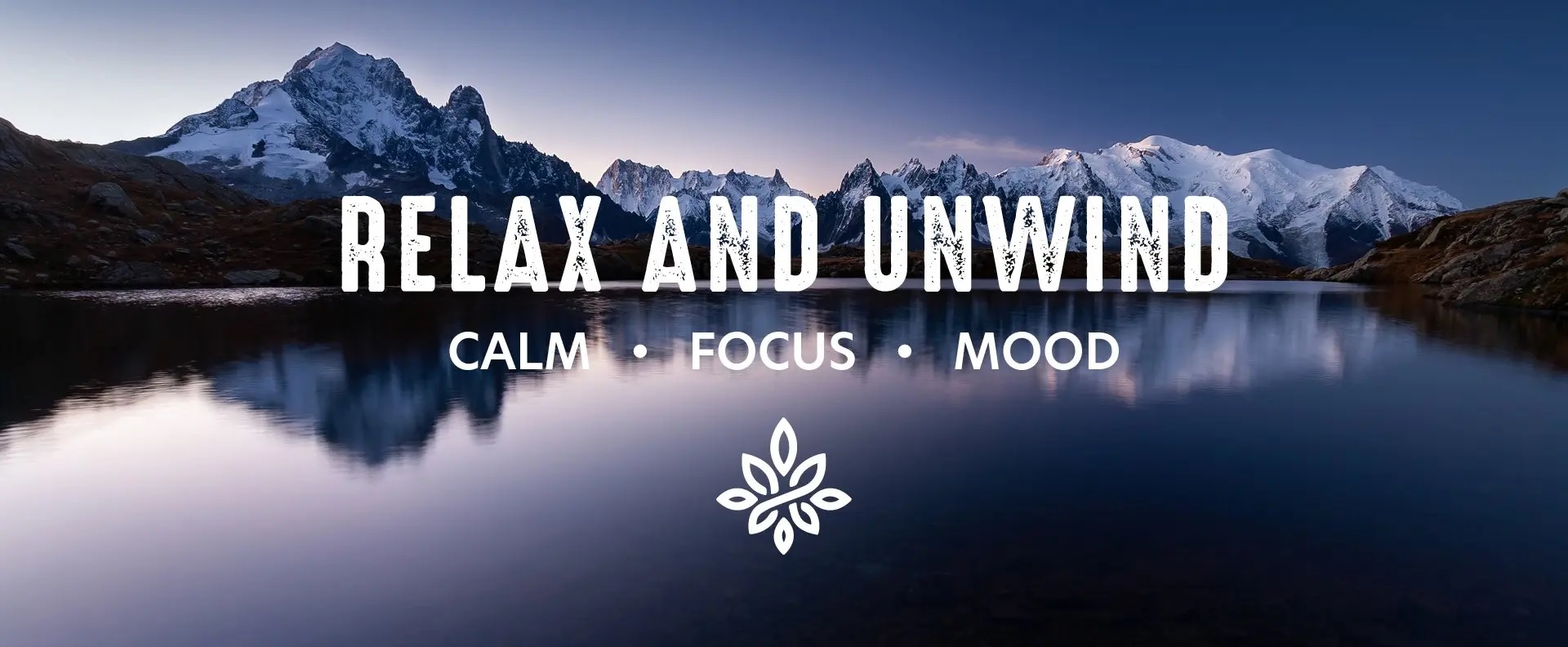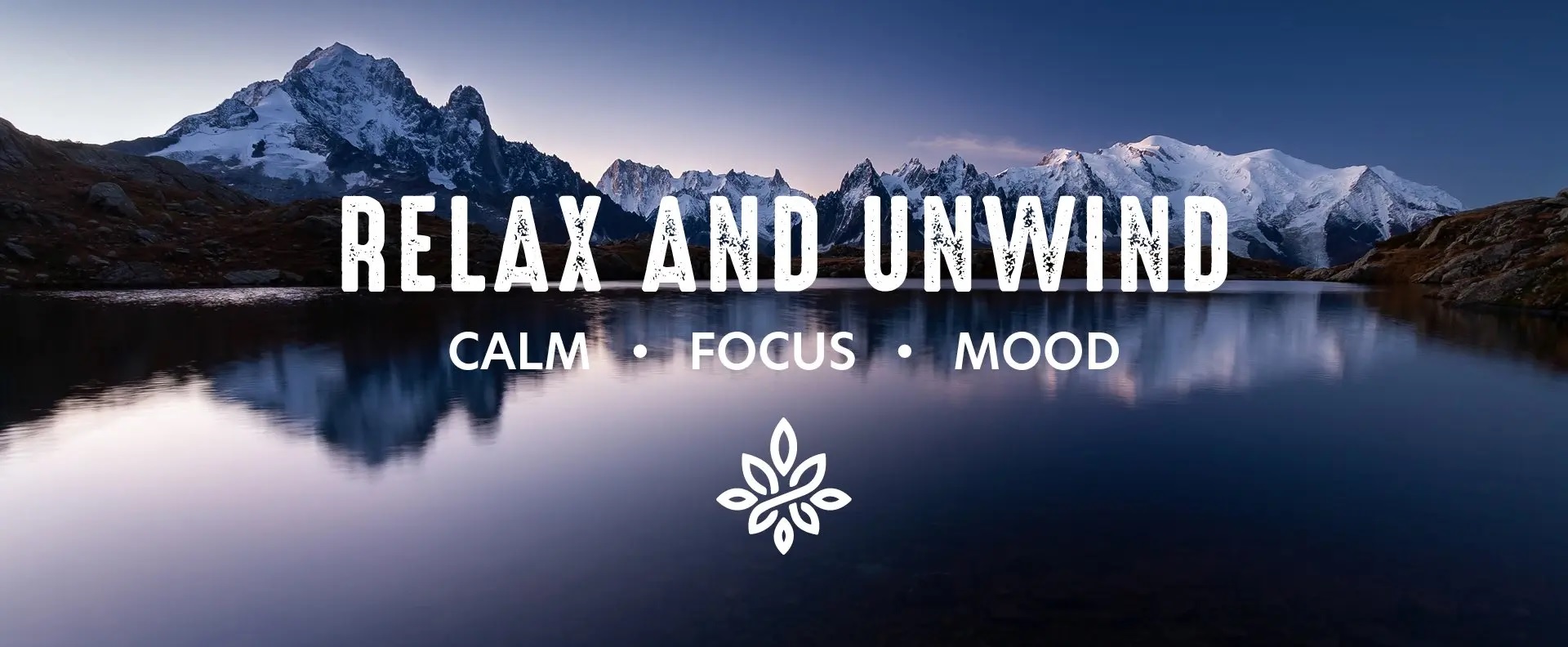 The post Highkind Cannabis Co – Champagne Kush CBD Vape Cartridge Review appeared first on The CBD Blog.
Source: https://thecbdblog.co.uk/cbd-product-reviews/highkind-cannabis-co-champagne-kush-cbd-vape-cartridge-review/