In operation since 2017, JM Wholesale has paved the way in the industry in a short number of years by emerging as the UK's top CBD products distributor. Founded in 2017 by co-owners Logie and Shani, the wholesale company has achieved utmost success and respect among the CBD industry by supplying top of the range quality vapes, supplements, food and beverage, and cosmetics, to name a few. JM Wholesale also provides brand owners with a large platform to distribute products to consumers.
We sat down with the team at JM Wholesale for exclusive insights into the operations of a respectable and successful wholesale business.
Fruition and market foresight
Having foresight to establish the first CBD wholesale distributor was entrepreneurial and brave in 2017, considering the CBD industry was still very much in its infancy at the time and not without its marketing difficulties. 
Logie and Shani having a keen interest in health and wellbeing, their research led them to discover CBD and its widely reported benefits. However, when looking to buy the products themselves, they found it difficult to find the type of items they were searching for.
At the time, the founders became involved in what were very innovative and experimental emerging products such as CBD infused drinks from Little Rick and 1 Step CBD's range of oils, sprays, and gummies. Shortly after, they forged strong partnerships with leading industry names including Orange County CBD, LVWell CBD and now CBD skin care range Poko and Canndid UK. Proudly, JM Wholesale can say that they help brands remain prominent in the market and they take pride in their ability to nurture such brands–growing alongside JM Wholesale. Logie and Shani say, "This has led to powerful relationships with almost every notable brand within the CBD market."
Moreover, the founders saw a gap in the market to provide consumers with a space that allowed them to weigh up their options between brands in terms of product ranges but also specific CBD personal preferences. Coming to fruition, JM Wholesale has birthed a safe and reliable space to support reputable brands and emerging products.
"The decision was made to begin sourcing the highest quality wholesale products with the aim of providing retailers a fast, reliable and affordable solution for all of their CBD and vaping requirements.", shares Logie and Shani.
Partnerships, demand, dropshipping
With over 5000+ CBD products on site, it's no surprise JM Wholesale are the leading wholesaler in the CBD sector.
Their in-house skills amongst the Brand Development Team have the capabilities to source the highest quality in-demand goods ahead of anyone else, placing them at the forefront of industry with others following behind. "We have the largest distribution network in the UK CBD and vaping space, featuring over 13,000 active trade customers.", says Logie and Shani.
Customers also have access to services such as subscriptions and the perks of free next day delivery, always providing a competitive automated price.
In 2019, JM Wholesale launched their CBD dropshipping service which propelled them forward in partnerships. Dropshipping ultimately connected them to over 500 websites where partners have access to all CBD products.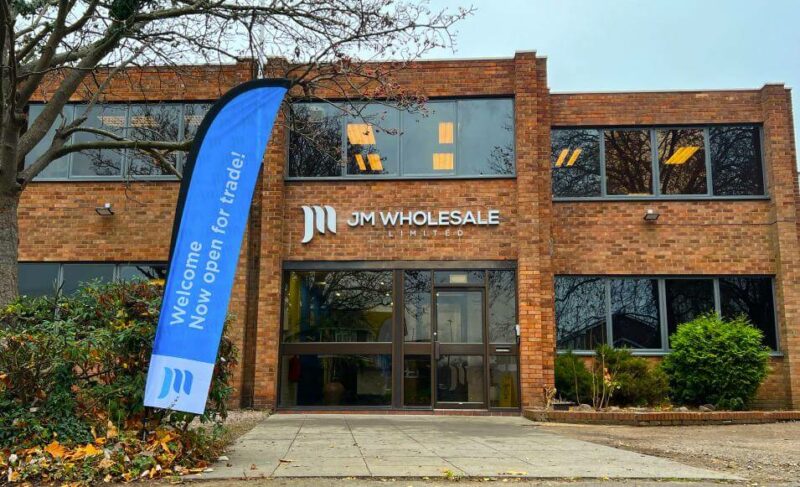 Furthering on from that, in 2020, JM Wholesale created a bespoke manufacturing and White Labelling service that ranges from a non-restrictive variety of vapes, oils, capsules, and supplements as well as consumables such as dried fruits and gummies. Additionally, cosmetics, skincare, and accessories are no limit to the company with goals to continue their product range growth.
Reception, stigmas, and roadblocks
In its infancy, the CBD industry held many misconceptions and misinformation in the UK and the wider globe. Public awareness and knowledge has shifted more positively over the years, but it hasn't been without its setbacks. Logie and Shani explain, "The general challenge was public awareness and education around CBD. JM has always strived to be transparent and to provide as much information to our customers as possible regarding legislation, legalities and in-depth product information within the CBD sector. We have also ensured that we are at the forefront of compliance and regulation."
It's no secret that a certain stigma exists around the use of CBD, and JM have felt this first hand. There are public sensitivities on the regulation and legality within the sector, oftentimes mistakenly relating the use of cannabidiol to the use of illegal drugs. 
Regardless of uncertainties surrounding the CBD industry, it's evident that JM have achieved immense results and respect among peers as they navigated through a difficult market. The public outlook on CBD usage is softening year on year, and the company has the capabilities to patiently adapt.
"Once we had made our intentions clear within the industry, through big-name brand partnerships, exclusivity deals and innovative services, we noticed mutual respect and recognition develop quickly with other CBD companies.", the founders share.
JM Wholesale's stance on FSA's action
CBD products have been considered a novel food since having no real history of consumption and must be authorised by the Food Standards Agency before they are market-ready. This is a positive shift for JM Wholesale and other retailers, as the Food Standard Agency has taken action as recently as April of this year to apply this novel food status to CBD products. 
Ultimately, this allows for more safety and regulation surrounding CBD as a food product while also destigmatising CBD as a drug, in JM's words it, "works to legitimise the industry as a whole."
In terms of business, this requires the wholesaler to publish novel food application numbers to relevant brand products in order for direct transparency with consumers which the company has embraced fully with open arms. Proudly, this pushes JM Wholesale ahead of the industry by being one of the earliest companies to be included on FSA's validated products list and JM states they are likely the "only CBD distributor to participate in a novel food application and to
submit products directly to the FSA."
Future outlook and projections
Logie Rajan, Managing Director of JM Wholesale has, unsurprisingly, a positive outlook for the future of the company with the intention to continue as an adaptable and innovative brand which is necessary given the unpredictable industry. 
He says, "At JM Wholesale, innovation and growth has always been at the heart of everything we do. We believe in truly setting ourselves apart from other distributors and manufacturers within the industry through creativity and offering unique services."
The market has come a long way since it's infancy in 2017, showing significant and promising growth year on year. 
JM Wholesale have been there to absorb first-hand experience and knowledge, equipping them with the tools to be market leaders for years to come and providing a significant space to fund many more CBD brand's potential growth and services, "we are investing heavily in our CBD Whitelabel and manufacturing services, with the recent build of our own in-house, fully certified clean room laboratory space. In addition to this, we will be introducing our own internal lab testing department and process."
For further information or to get in contact with JM Wholesale, follow through to their website.
Source: https://www.theextract.co.uk/news/jm-wholesale-shares-successes-struggles-and-outlook-for-the-cbd-industry/