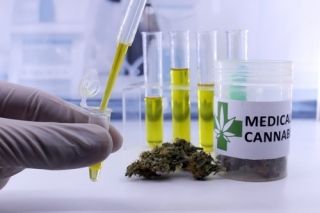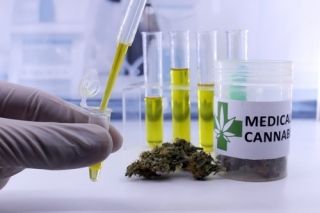 Whether cannabis is consumed through inhalation or orally, the industry is challenged to provide accurate and precise dosing of THC and CBD, the two most beneficial chemical compounds found in cannabis.     
The medical marijuana industry is worth $7 billion and is expected to grow to $55.8 billion by 2025; in parts of the US, recreational cannabis is legal, and in Canada legalization is coming this summer.
If there's one thing that stands in the cannabis industry's way, it's the issue of dosing.

This INNspired Article is brought to you by:
Xanthic Biopharma (CSE:xTHC) is a premium cannabinoid life sciences technology brand that has developed a patent-pending technology to make the two key active ingredients in cannabis—THC and CBD—soluble in water.Send me an Investor Kit
Just ask Maureen Dowd. The New York Times journalist ate a cannabis-induced candy bar during a stay in Denver in 2014, then spent eight hours curled up in a hallucinatory state staring at the exposed-brick wall of her hotel room. She was so deepened with paranoia she became convinced she had died and no one had told her. Her exposé was a warning shot directed at anyone who thinks ingesting cannabis is akin to a few drinks of alcohol, and a reminder that when it comes to dosing, there's still a lot to be done.
As both the recreational and medicinal cannabis markets continue to expand, biopharmaceutical companies are developing technologies that can efficiently break down and quantify the CBD and THC content in cannabis, thus making them easier to dose. Through deploying effective dosing techniques, these companies are providing the opportunity for consumers to reap the benefits of the cannabis molecules in an accurate and discreet fashion.
Issues with traditional dosing
Arriving at an accurate dose of cannabis from traditional forms of ingestion, like edibles and inhalation, has long been challenging in part due to lack of regulation. Like all illicit drugs, there has been an absence of a regulatory body that oversees product dosage since the product is not sold on a regulated marketplace. But in areas where cannabis is legal (recreationally or medicinally) dosing is still a problem that plagues the industry.
"There are a whole host of mistakes happening because, in the grey market, there's no standard protocol for how to package [edibles]," cannabis marketing consultant Adolfo Gonzales told the Georgia Straight, "and in the legal sector, where there are protocols, they're focused on really only providing the [CBD] quantification of their product very thoroughly, without other important information, like the terpene content."
Edibles are particularly tricky to dose because of the role stomach acids play in breaking down food. Each person's rate of absorption can differ based on their personal profile and factors such as weight, medical conditions, tolerance, the role their liver plays in breaking down the drug as it enters the bloodstream or even how much food they have already consumed that day.
"Companies need to define a minimum dose that is safe for a starter client and describe how to obtain that milligram dosage physically from that specific product format," Gonzales said. For example, although some companies list a standard dose, they won't include the fact that "one square of chocolate" or "half a dropper" is the physical amount to obtain said amount of cannabinoids.
According to a study published on labeling in the Journal of the American Medical Association, of 75 edible packages, 17 percent were accurately labeled, 23 percent were under-labeled and 60 percent were over-labeled with respect to THC content. While the study recognized the small sample size, a similar review of dozens of products from marijuana dispensaries in California and Washington found that 23 percent of packages contained more active chemicals than their labels suggested, while 60 percent fell short on what was promised.
Benefits of microdosing and precise dosing
Microdosing is the administration of extremely low doses of a drug in the human body's circulation. Though it is a lower dose, it is high enough to allow the cellular response to be studied. A 2012 study revealed that patients with advanced cancer who were unresponsive to traditional opioid painkillers were given nabiximols ― a THC/CBD compound ― at low, medium and high doses. Patients who received the lowest dosage of CBD showed the greatest reduction in pain, while those receiving higher doses experienced more pain.
"While the recreational community will clearly benefit from proper dosing methods, the medical community will also greatly benefit," said Tim Moore, CEO of Xanthic Biopharma (CSE:xTHC). "In states and countries where medical cannabis is legal, for years doctors have had to use guesswork to determine how much cannabis a patient should consume to address their symptoms, with trial and error often leading to unsatisfactory experiences."
According to Dr. Dustin Sulak, most consumers of cannabis find that 1 to 5 mg works well for increasing their mood, reducing anxiety, improving focus, enhancing resilience to stress and reducing pain without any adverse effects. For new users, Sulak recommends the old adage "start low, go slow."
Lower, more precise doses also allow patients and consumers to parcel out benefits throughout the day, so they steadily feel good. This strategy removes any peaks and valleys, or binge tendencies, that can be attached to larger doses. Controlled dosing also leads to more optimized recovery time, or a less harsh "coming down" effect.
Innovations in biotech provide more accurate dosing
With the North American cannabis industry on the rise, many biotech companies are taking advantage of the opportunity by developing innovative products that respond to issues of over or inaccurate dosing.
The Resolve One Smart Inhaler (formerly known as Breeze) by Resolve Digital Health has been called "the Keurig of cannabis." Users insert a "Smart Pod" of cannabis and the device administers an accurate blast of vapor per serving. The device pairs with a smartphone app, where users begin by inputting their pain level. The inhaler calculates the right dose, which is followed by a drag. After a few minutes, or when the effects have kicked in, the app pings the user to rate their pain again. This helps the user determine how effective the first dose was, and so on.
The Gelpell® microgel technology developed by Satipharm, a subsidiary of Harvest One Cannabis (TSXV:HVT), is a natural gelatin product that contains linseed oil and chlorophyll to protect CBD from oxidative heat and light degradation. Unlike other oral CBD products, the Gelpell® capsules don't need refrigeration to maintain their stability. When ingested, the capsule passes easily through the stomach to the small intestine where it dissolves, distributing the gelatin beads. The gelatin formulation creates a microemulsion that substantially enhances the bioavailability of the CBD as they are absorbed through the small intestine, and increases the chance of accurate dosing.
Xanthic Biopharma is a premium cannabinoid life sciences technology brand that is taking a different approach to providing controlled doses of cannabis with its line of powder and energy drinks. Its patent-pending technology makes THC and CBD soluble in water. In powder form, THC and CBD can be dosed effectively, making it easier for medical practitioners to prescribe the drug and convenient for consumers to self dose.
On the rise
Like any industry that experiences explosive growth early on in its development, the cannabis industry is going through a transition where its consumers are not just wanting access to products, but are wanting to optimize their experience. New technologies developed in response to consumer demand and more refined knowledge can provide companies with additional revenue streams, as well as provide consumers with the product and experience they seek.
This INNspired article is sponsored by Xanthic Biopharma (CSE:xTHC). This article was written according to INN editorial standards to educate investors.
The post Precise Cannabis Dosing Positioned to Change the Industry appeared first on Investing News Network.
Source
Source: https://hempland.net/precise-cannabis-dosing-positioned-to-change-the-industry/