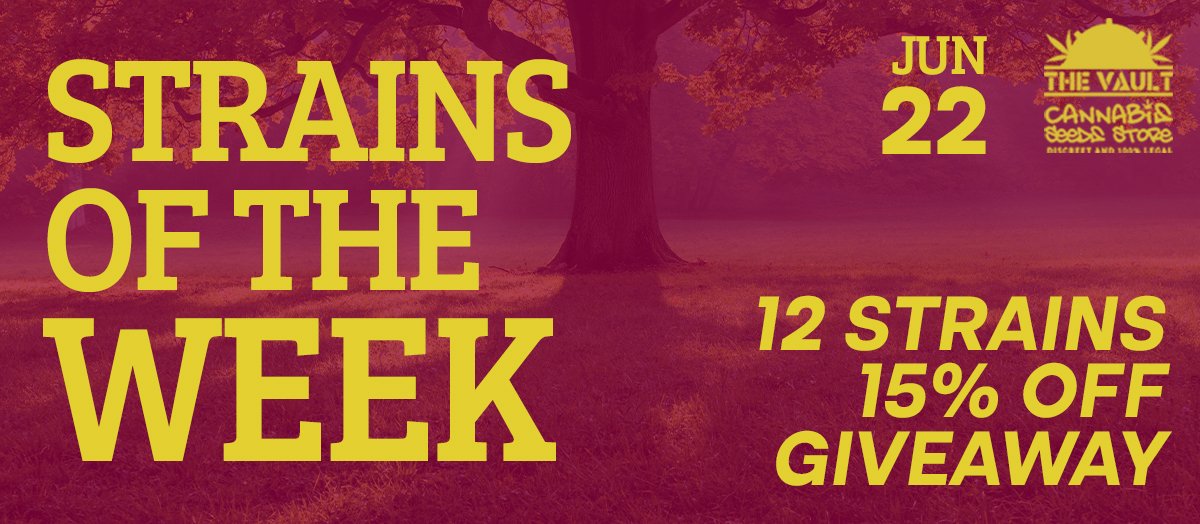 Happy Wednesday, Team Vaulters!
Here we're again offering you our delicatessen, la creme de la creme, at the best price. The Strains of the Week!
And yes, with the best price comes a prize too – our little giveaway.
We've read your comments and suggestions, and we're sure you will like the selection for this week. Top breeders as you requested, plus a few top-sellers that will tempt you reeeeeeal bad.
Let us know in the comment section which strains or breeders you would like to see in the next  Strains of the Week, and you will automatically qualify to get an individual 3-pack of any of the cannabis seeds listed this week on the Strains of the Week.
Remember the magic trick – for 15% off the price, please introduce the code 'SOTW15' at the checkout.
Double the seeds, double the love.
Also, we're adding more and more on-purchase promos every week, so your cart can include also more freebies than the ones we normally offer.
Both breeders and types of seeds may vary depending on the week and the events taking place at the time. This means no week will be the same as the previous one!
We'll try to please all tastes by selecting carefully strains based on their flavour, THC and CBD content, maximum size, yielding, etc.
The Strains of the Week
Blackberry Autoflowering Feminised Seeds by Fastbuds Seeds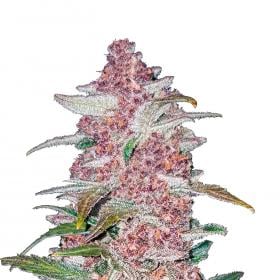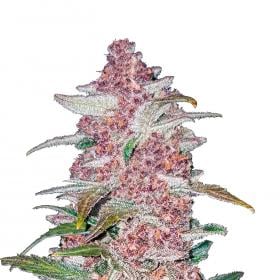 Fast Buds have created this variety for foodies. The mix of flavors offered by this Blackberry create a burst of sensations: spicy, sweet, fruity, wild berries, and pine – an explosive mixture that's difficult to forget. These alluring qualities result from the combo of Blackberry and purple Kush strains of Pakistani descent. Minor Sativa and Canadian ruderalis contributions round out the necessary genetics of the strain.
Tangerine Dream Feminised Seeds by Barneys Farm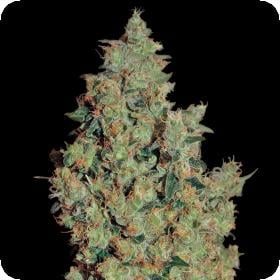 Barney's Farm Tangerine Dream is an impressive cross of G3 and Neville's A5 Haze that Barney's then crossed AGAIN with G13. It is a sativa-dominant hybrid that has a tangy citrus bouquet that is very intense. The effects fill the head and are very relaxing. Tangerine Dream offers the best possible experience for smokers as well as growers. It has a brief 60-65 day flowering cycle, grows to about only about 1 metre with hardy and abundant side branches.
Tangerine Dream AUTO Feminised Seeds by Barneys Farm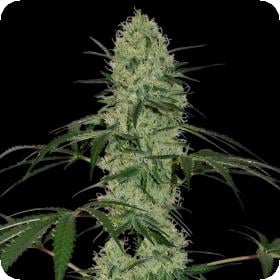 For every grower who is a fan of this award winning classic strain comes its auto-flowering form. Yup, Tangerine Dream is now auto-flowering which means it has an improved yield, shorter growing time and shorter stature. Perfect for those who fancy a little personal growing. As if this strain weren't already fast and easy to grow, it is now essentially effortless. The plant has retained the same tangy, sweet yet pungent citrus scent and flavour but has had a little boost to its CBD whilst getting its THC levels in check. The resulting effect is far more balanced than that of the original, nice and cerebral but still delightfully relaxing.
Good Shit Feminised Seeds by Phoenix Cannabis Seeds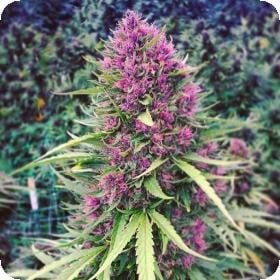 We have been hard at work to provide you guys with some real Good Shit, at a great low price, and we have now cracked it! This strain will be a wonderful smooth smoke that will even astound the most critical of cannabis enthusiasts. The best way to describe the flavour and quality of the smoke is luxurious. There is just something special about this strain, from its exotic look to its incredible quality. It offers the user a smoke that is smooth as… well, velvet. The effect is very much the same smooth, easy, warm, and laid-back. The effect is as pure as they come with no anxiety or paranoia.
Lemon Auto Feminised Seeds by Seedsman Seeds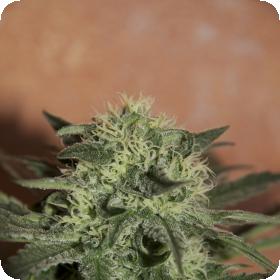 Auto Lemon is a cross-breed, self-blooming strain of marijuana produced by the fertilisation of a female Lemon Haze plant with pollen from a male Lowryder #2 plant with the permission of the Joint Doctor. Auto Lemon develops into an easy-to-grow medium-sized auto plant with a tendency to conform to a single-cola growth pattern with little side-banding which makes it an ideal Sea of Green strain for indoors or a stealthy option for outdoors during the summer months. Its life cycle is completed in approximately two and a half months from the production of three or even four consecutive seedlings outdoors in warmer regions such as the Mediterranean.
Amnesia Haze Automatic Feminised Seeds by Royal Queen Seeds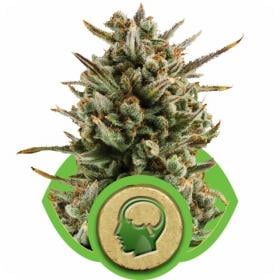 Royal Queens Seeds Amnesia Haze Automatic Feminised seeds aims to overcome many of the problems which are associated with traditional Haze strains such as its particularly long flowering time, which in some cases can be up to 20 weeks. The Ruderalis background of this type means that it cuts this flowering time to a much more manageable 10-12 weeks meaning that those who would otherwise not have been given a chance to grow it can now do so. It is Sativa dominant which can be seen in the fact that it will grow rather large. With thin leaves and long buds, it can grow up to a height of 1 m indoors and past this outdoors.
Durban Poison Feminised Seeds by Dutch Passion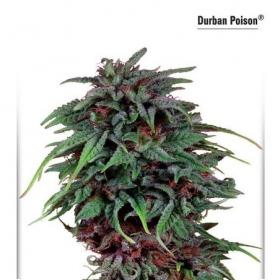 This is a rather special strain which was imported from South Africa and was cultivated in Holland, already rather impressive. The strain has never been hybridised and is a 100% pure inbred plant, also 100% Sativa. This strain is very popular for is light and energising up as well as its growing versatility. This is another strain by Dutch Passion which is extremely easy to grow although it can be confusing because as it grows it resembles and Indica far more than a Sativa. At a certain stage however, about 8-9 weeks in, it grows noticeable compact buds which are full of THC.
Afrodite Feminised Seeds by Kannabia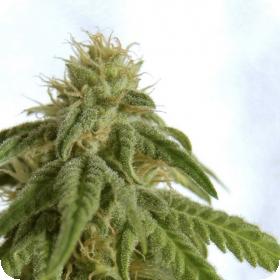 Afrodite Feminised is a mostly-sativa hybrid that is known for its particular psychoactive properties and potency. The plants are curiously small for a Sativa but they make up for their small stature with an end product that packs a considerable wallop. Kannabia Afrodite is not a beginner's smoke. The strain is particularly intoxicating and the effect is nearly immediate with little to no ceiling. The effect is very typical of a sativa – relaxing and uplifting while leaving the user alert and productive. Use it to get the creative juices flowing or just to pass around for fun.
Kaboom (La Reina de Africa) Feminised Seeds by Kannabia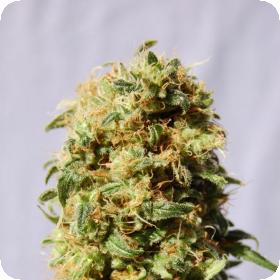 The best thing about strains like AK-47 is that they offer a short hybrid flowering that blends some very Sativa-rich strains with indica reminiscences. Its Indica parentage makes this variety ripen quickly, even if you think it will take a few more weeks for the plant to mature. The flowering period has been reduced to 8 weeks, so that the harvest will take place at the end of September.
Mikromachine Automatic Feminised Seeds by Kannabia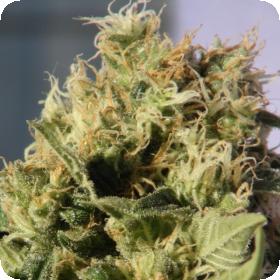 Mikromachine Automatic is a cross between two of Kannabia Seed Company's two best auto-flowers, Northern Light Auto X (Auto Ak X Auto Critical). The cross between the two is a genetic powerhouse that results in a near-perfect indica/sativa hybrid with all the benefits of both a feminised and auto-flowering plant. This strain got its name for being, as the breeder describes it, "a real machine for bud and trichome production." The medium size of these plants is very consistent and they are compact enough to grow on a large scale, indoors or out.
Ginger Punch (Hobbit) Automatic Feminised Seeds by Kannabia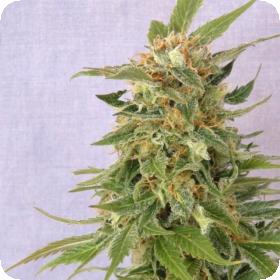 Hobbit Automatic Feminised is another of Kannabia Seeds' projects that improves on an already great strain. They took the iconic Ginger Ale, perfected it by isolating the best plants (thereby preserving the best genetics), crossed it with a premium quality ruderalis to make it automatic, and – just to be sure they covered all the bases – created an easy-to-manage feminised version that practically grows itself. The precise genetics include the legendary Haze, Cinderella 88 and Ruderalis. The combination of genetics produces a strain of cannabis that is very hardy and also impressively resistant to common plant diseases, moulds, and fungus.
Cookies Autoflowering Feminised Seeds by Fastbuds Seeds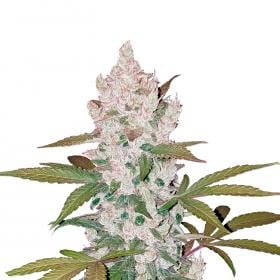 The Girl Scout Cookies variety is bona fide high-quality marijuana. It is without a doubt the best Californian strain of all time. Currently, Girl Scout Cookies has a large number of fans throughout the United States West Coast, and is going strong in Europe, Eastern Europe and Asia. FastBuds have managed to recreate an auto flower that does the original GSC justice. They've selected the two most popular phenotypes of the Original Girl Scout Cookies and created an auto flower version of this spectacular plant.
Strains Of The Week TERMS
15% Off The Following Strains
This selection of Strains of the Week is valid until the 22nd of June 2022
To apply the price reduction please introduce the code 'SOTW15' at the checkout.
It cannot be combined with other discount codes.
GIVEAWAY TERMS
Promo is live from the 15th to 22nd of June 2022
Entries are verified first so your entry may not show up for 24-48 hours
The winner will be updated on this blog post on the closing date of the 22nd of June 2022
We will share the news on our social media pages. The winner will also be emailed directly and your details will remain discreet. We will only publish your name on the blog that is supplied with the entry
The prize must be claimed within 28 days or it will be put into the pot for a future promo
The results are final
Newsletter Sign Up
Make sure you never miss another Vault promo – sign up for our newsletter at https://www.cannabis-seeds-store.co.uk/the-vault-newsletter
Remember: It is illegal to germinate cannabis seeds in many countries including the UK.  It is our duty to inform you of this fact and to urge you to obey all of your local laws to the letter.  The Vault only ever sells or sends out seeds for souvenir, collection or novelty purposes.
The post Strains of the Week + Giveaway – 15th to 22nd of June 2022 first appeared on Cannabis Seeds News.
Source: https://www.cannabis-seeds-store.co.uk/Cannabis-Seeds-News/strains-of-the-week-giveaway-15th-to-22nd-of-june-2022