The gummy format continues to be quite popular in the health and wellness space and our blog on how to choose the best vitamin gummies for you and your kids, received rave reviews from our readers. Following on from that, we look at the 5 best hair skin and nails gummies in the UK. This customer "need" state has proven to be a hit, and are we all not looking for stronger hair, glowing skin, and great nails? We took a deep dive into this category, looking at the most important vitamins, and how they can help you achieve your wellness goals.
The advice your mother always told you, to eat a balanced diet with lots of fruit and vegetables is still one of the best advice you can follow. This is because we can get most of the vitamins and minerals we need through unrefined and fresh food. However, it is not always this easy. For those in Northern climates, fresh produce can be a challenge in winter months. And then our busy lives pull us more towards foods of convenience and refined sugars and grains. So, this means many of us do need to supplement with vitamins to get to our daily recommend take.
Water-soluble versus Fat-Soluble
Let us start with the basics, vitamins can be either water soluble or fat soluble. The water-soluble vitamins can dissolve in water and found in the watery portions of foods. The digestive tract can absorb them easily and they are best taken with food to help absorption. Another key fact is any excess is processed by the kidneys and sent out in your wee. This means the risk of harm from consuming supplement with large doses of water-soluble vitamins is small.
Fat-soluble vitamins can only be dissolved by fat solvents and oils. It is not as easy for fat soluble vitamins to move around your body. Once absorbed, these vitamins are stored in the liver, which can release them as needed. However, since excess is stored for long periods of time, it is possible to ingest too much of them. The good news this only happens if you take high doses of supplements over a long time. It would be rare to get too much from food. Therefore, read the supplement label carefully.
So, What Vitamins or Minerals are Important for Skin, Hair and Nails?
Now we have the basics out of the way, which vitamins are the most important hair supplements? Across our survey of skin, hair, and nail products we noticed a distinct trend across the best products, they all had the same core vitamins. In particular, Vitamin B7, otherwise known as biotin, is the hero ingredient of most formulation. Any product you are looking for at a minimum should at least include your daily allowance of biotin. Vitamin A and Vitamin C also play a critical factor.
Vitamin A
Fat-soluble while Vitamin E helps with absorption by the body. There are three active forms of Vitamin A in the body, retinol, retinal, and retinoic acid. This vitamin is essential for vision and keeping skin healthy. Low-level of Vitamin A is a root cause of unhealthy-looking skin. It helps to normalize oil production in the skin and can help make the skin look firmer and more radiant. It can also help speed up healing and prevent breakout. So, Vitamin A is a critical pilar of all skin supplements! As it is fat-soluble though, the amount per gummy should be below daily guidelines.
Vitamin B7 (Biotin)
This is the lead ingredient in any hair, skin, and nails gummy. Biotin helps convert food into energy, make and break fatty acids resulting in healthy bones and hair. Your body needs little biotin a day with the daily recommendation of 30mcg. However, as its water soluble, any excess will just be pushed out of the body. If you have brittle hair from over styling or weak and damaged hair, biotin could be the answer.
Anecdotal evidence suggests Biotin can support and strengthen hair shafts, support nail strength and reduce brittleness. So, this is a must have ingredient for any hair, skin, and nail gummy product.
Vitamin C
This is a water-soluble nutrient playing a vital role in keeping your skin healthy. Vitamin C plays a role in controlling infections and as an antioxidant it can help get rid of free radicals. It is a key building block for collagen, which helps make the skin look more youthful.
Rating the Top 5 Hair, Skin and Nail gummies in the UK
Why are so many women taking hair growth gummies? Because they work and without further ado, we select our top 5 recommends from over 20 different candidates. We rate the best gummies on five different metrics on a five points scale (1 = worst , 5 = best). We prefer gummies versus capsules, so have kept to this universe of products only.
Company – who is the company? What is their ethos, and their brand?
Daily dosage – can this be an effective part of a daily regime? Are the gummy dose sizes helpful?
Formulation – what has been added to the gummy to give the consumer more benefits?
Value – cheap is rarely the best. How can one choose the best valued gummy on the market which balances cost with effectiveness?
Packaging – we are always on the look-out for sustainable packaging, and assign huge downgrades for single-use plastic or carbon intensive packaging solutions
#1 (19/25 points) Wicked Gummy Co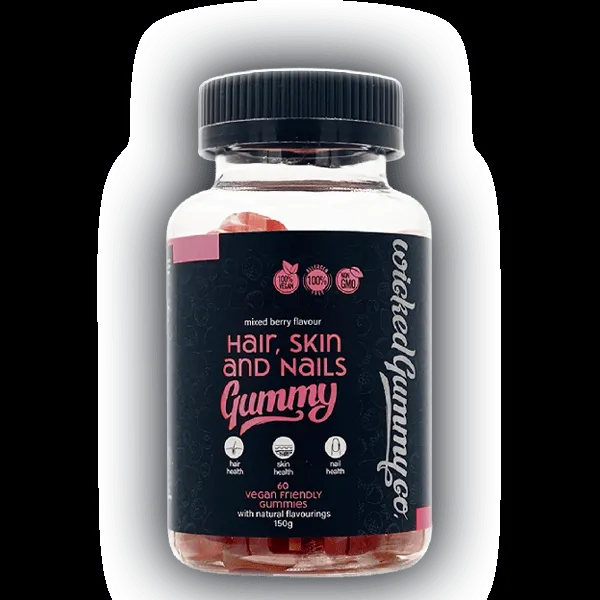 Company (4.5/5): A delightful story behind this company founded by two long-time friends who wanted to shake up the supplement industry and make it more accessible. The branding is enticing, although we do find it mixes up the message of being a health company. For example, Wicked could be construed by some as "bad" as opposed to the "awesome" they mean. This prevents us from giving them a perfect score, but we still love what they do across a range of gummies.
Daily dosage (3/5): Another big dose of biotin which scores points, but some of the other included Vitamins breach daily recommended thresholds.
Formulation (3.5/5): They use high-quality plant-based alternatives, and their gummies use pectin, a naturally occurring ingredient found in fruit. The gummies are vegan, non-GMO, gluten, and allergen free. They also have multiple other vitamins in here including B12. This vitamin is found mostly in meat, which makes supplementation important for vegans. The formulation is quite busy and feels like its trying to be all things to all people.
Value (4/5): An excellent value and quality brand.
Packaging (4/5): They claim the packaging is 100% recyclable and are actively looking for ways to further reduce their environmental impact.
Buy Wicked Gummy Now
#2 (18/25 points) Nutriburst – Hair, Skin & Nails Gummies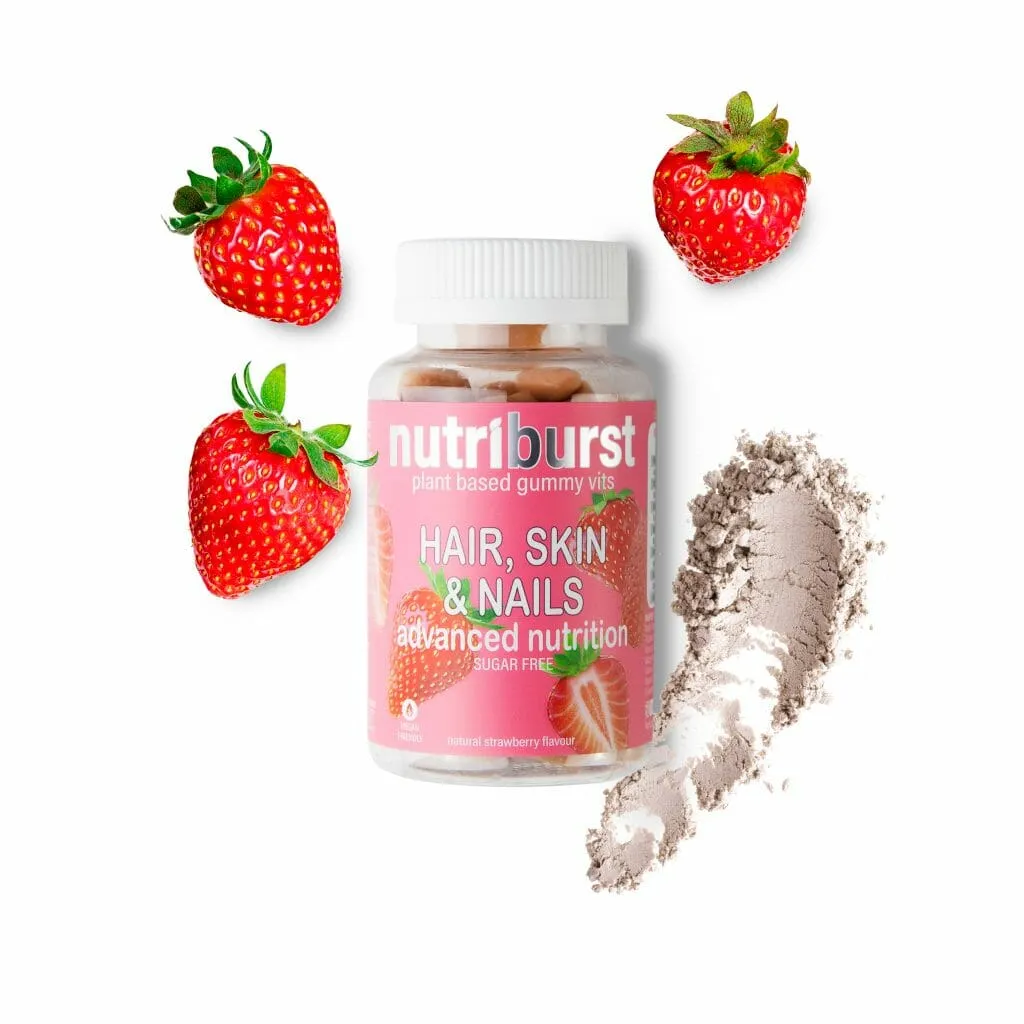 Company (3/5): Nutriburst is an entirely plant-based and sugar free gummy vitamin brand. All the vitamins are undergo lab testing. We love the branding but would love to get some more perspective on the founders and the company ethos. This knocks a few points off our score.
Daily dosage (4/5): Nutriburst really goes for it here with 5,000ug of Biotin per daily recommended serving. That is 10,000% of the daily recommended allowance but have no fear. As biotin is water-soluble, your body will pass on what you do not need to rebuild that hair. An ingredient you should look for in all hair growth gummies.
Formulation (4/5): All the vitamins are included to help your hair, skin, and nails. In particular, Vitamin A, which gives almost 80% of the daily allowance. While zinc provides immunity support and Vitamin C help kills off those free radicals
Value (5/5): An amazing price for biotin per serving, and a high-quality formulation to match.
Packaging (2/5): This is an issue across a lot of nutraceuticals, just too much plastic. Safety regulations make it tough to move past this for now.
#3 (15.5/25 points) Starpowa Hair, Skin & Nail Gummies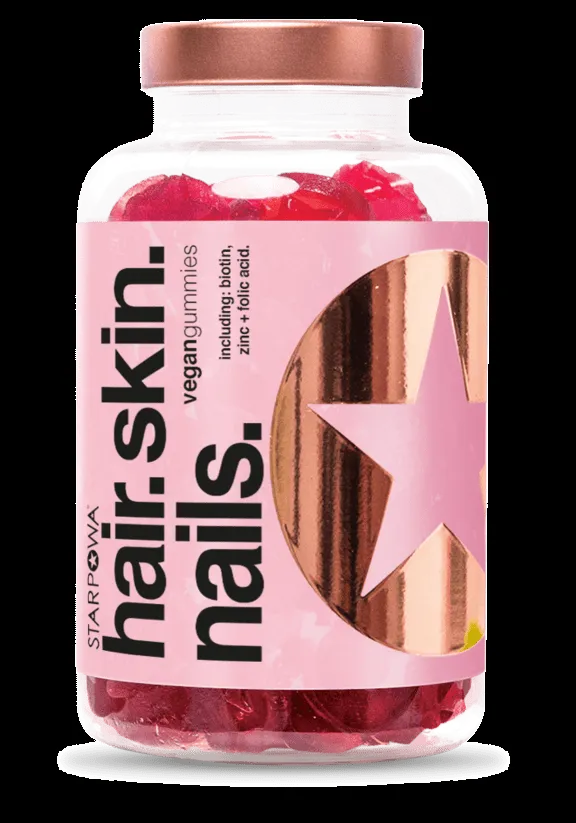 Company (2.5/5): Starpowa bills itself as the number 1 vegan gummy company in the U.K. and it looks like they have the credentials to match. The company is prevalent across all gummy categories and in most retailers like holland & Barrett. Our main issue is we could not really figure out what the mission of the company is all about from their website. Leading to our lowered score overall.
Daily dosage (3/5): Only the daily recommended dosage of biotin, which makes it tough to make up for any deficit.
Formulation (3/5): Not easy to see on the site the other members of the formulation. It is a terribly busy label. They are vegan, but we had to delve into the Q&A section to find this out. Not the standard gummy hair vitamin.
Value (4.5/5): It looks twice the price of the others, but this is because you are buying two months of supply. We like they provide a larger format, which means less stress around reordering.
Packaging (2.5/5): We could not find any detail about the sustainability of the package, so we give middle of the road rankings.
#4 (14/25 points) Myvitamins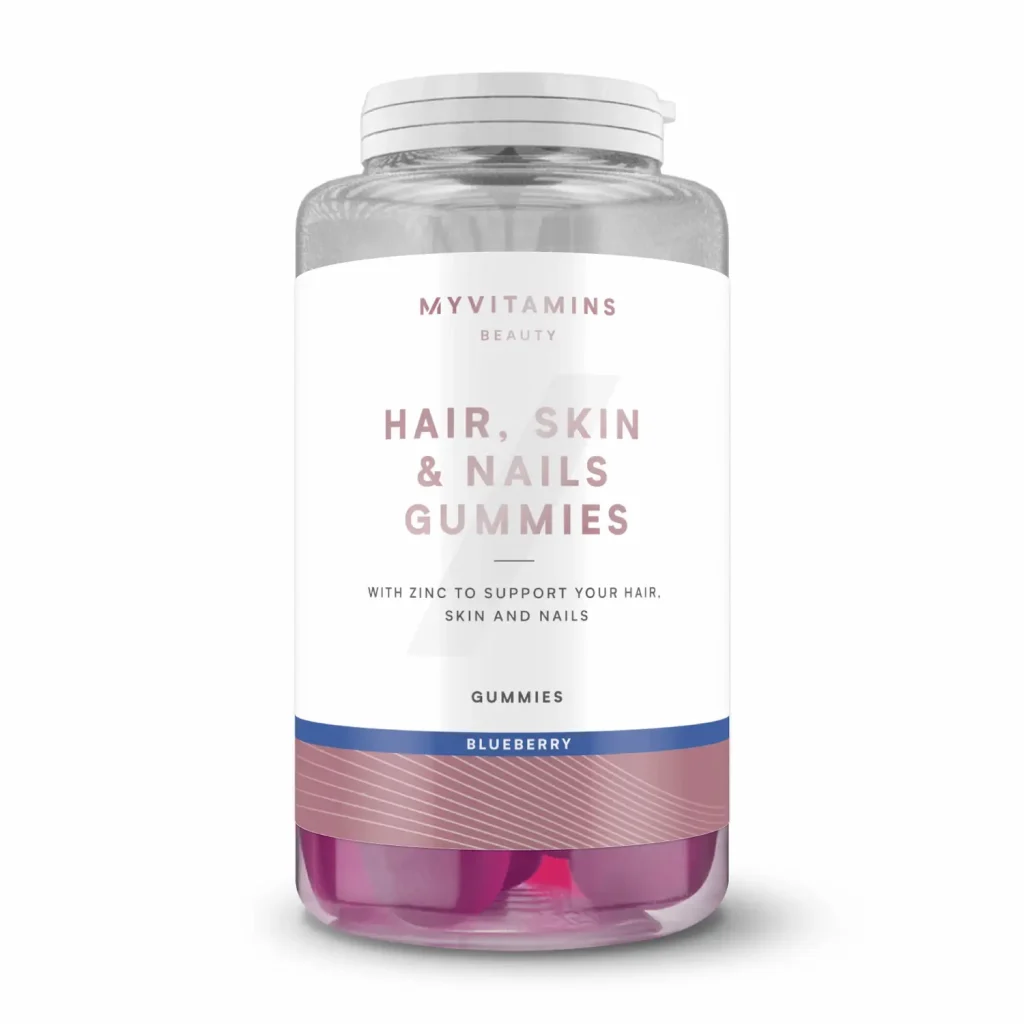 Company (2/5): Clever name myvitamins, but I have no idea who you are or what you are about.
Daily dosage (3/5): Not as much biotin as the other gummies on the market.
Formulation (3/5): The company has given 100% dosages across every vitamin in the formulation, except biotin which is 300%. The 100% dosage of Vitamin A is too much as, its fat-soluble and there is a risk of consuming too much over time. There is no reason to have that much in the formulation. The truth is, it does not feel like they put much of any though into how to make this a differentiated gummy. Not explicitly vegan, although the strawberry flavour is vegan.
Value (4/5): In the range of other gummy products, but without the expert formulation.
Packaging (2/5): Plastic with no stated message around sustainability or commitment to reducing waste.
#5 (10.5/25 points) Nature's Truth UK (naturestruth.co.uk)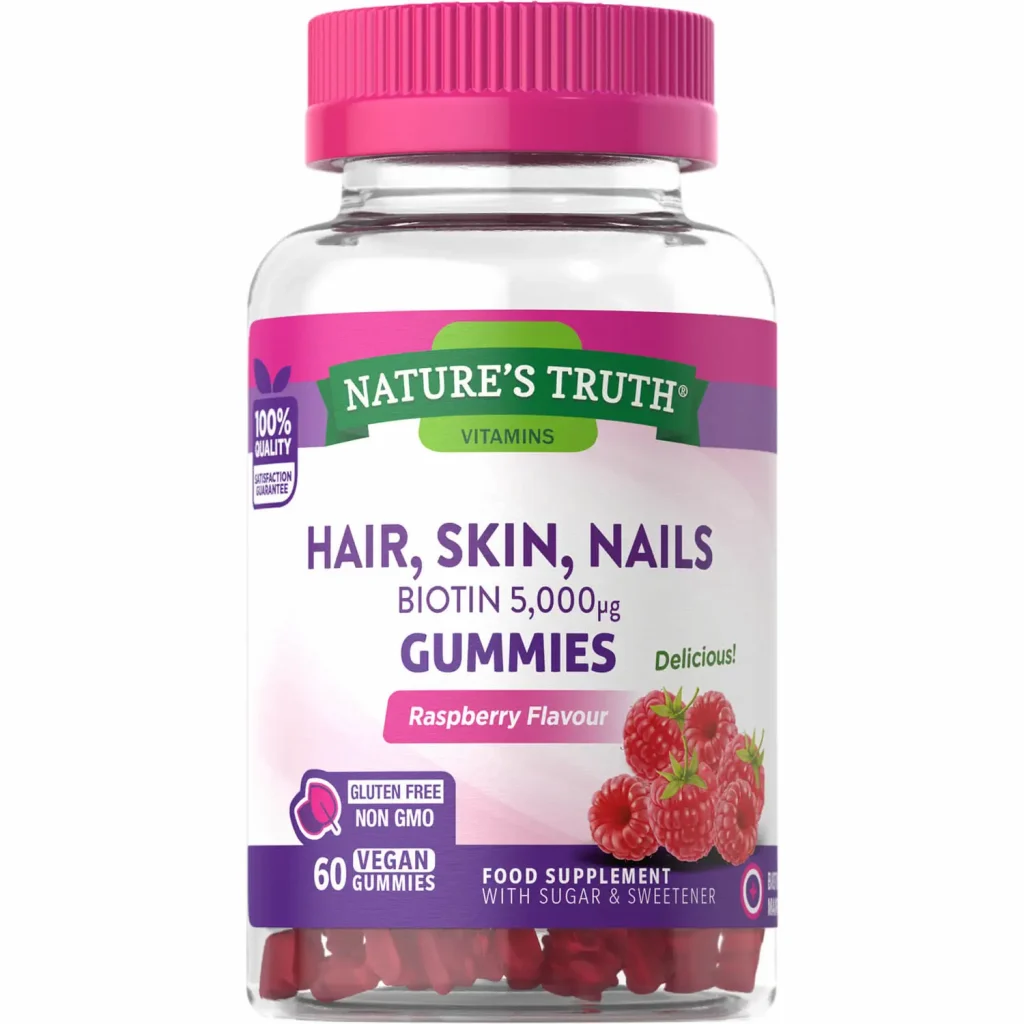 Company (2/5): They call themselves Nature's Truth, yet finding much detail on the brand is next to impossible.
Daily dosage (3/5): They bring the biotin, the hallmark of any solid hair, skin and nails gummy.
Formulation (1.5/5): Sugar a sweetener is a big no for us. While they are vegan, non-GMO and gluten free which gets some points. The haphazard dosages of vitamins in this formula is strange. Probably would have been better if they stuck to the biotin.
Value (2/5): Cheapest on the market by a long shot, but we must wonder at what cost this comes? Is there enough quality assurance? There are better hair gummies on the market.
Packaging (2/5): Plastic enough said.
In Conclusion
Do you have a favourite hair, skin, and nail gummy, like sugar bear hair or some other brand? Send us your comments to hello@greenbox.co.uk, we would love to review even more products for our list.
Hair, Skin and Nail Gummies available at GreenBox
The post The 5 Best Hair, Skin and Nails Gummies in the UK appeared first on GreenBox.
Source: https://www.greenbox.co.uk/the-5-best-hair-skin-and-nails-gummies-in-the-uk/