This week's CBD product review and up this time we have more quality CBD vape goodies from The Goods and provided by HempElf.
The Goods are a retailer of Premium quality Hemp/CBD products with a wide range including CBD extracts, CBD flower, CBD Dab Disposable Vape Pens, CBD Pre rolls and much more.
The Goods describe their 45% distillate dab vape pens as:
Experience the power of uncut CBD-dominant Distillate in our new sleek-sized pocket disposable vape pens loaded up with a potent, pure non-crystallising  CBD distillate (wax).
Be sure that you're taking large CBD hits with every draw. You'll know what we're talking about once you've taken your first hit. Don't forget to buy certified quality, GMP certified. 
The Goods dab distillate vape pens come in many different terpene profiles/flavours including Grape Ape, Strawnana, Blue Dream, Maui Wowie, Forbidden Fruit, Zkittlez, Pineapple Express, OG Kush, Girlscout Cookies and Grandaddy Purple.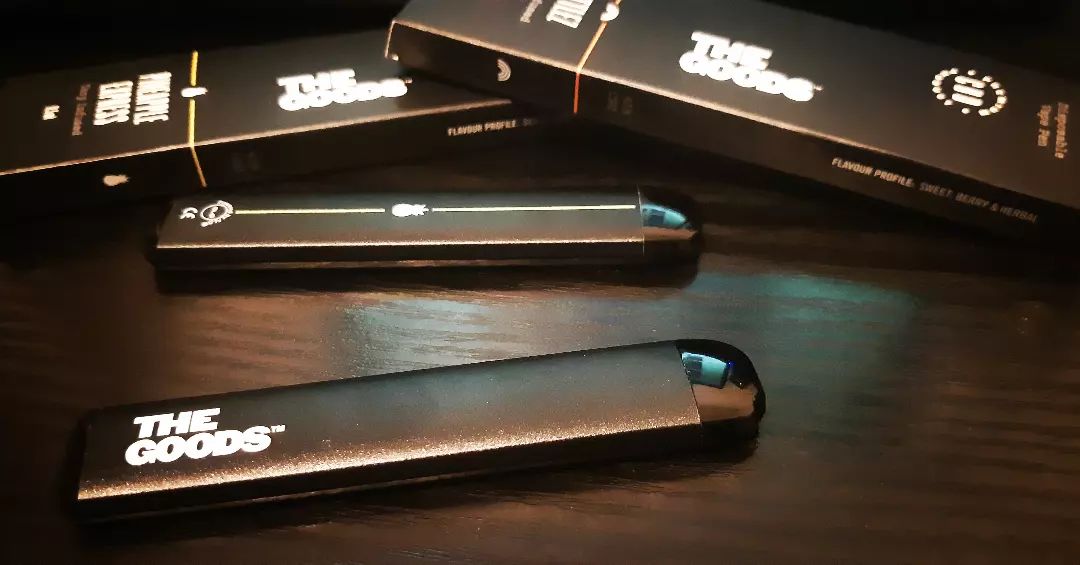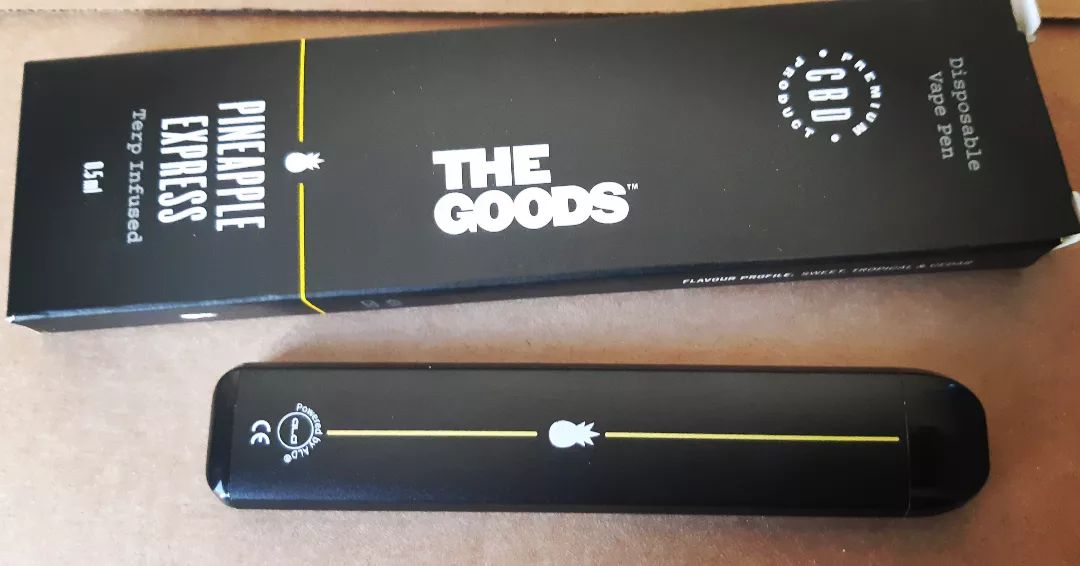 The CBD Blogger Review
As always I'd like to start off the review by once again saying many thanks to HempElf and The Goods for the continued support and providing more amazing samples of their products for reviewing.
Amazing Portability
One of the best features of The Goods 45% Dab Distillate Vape Pens is how portable they are.
I have tried quite a few different disposable CBD vape pens now and The Goods dab distillate pen is definitely the most portable yet.
The Goods dab distillate vape pen has an amazing compact, very sleek design.
It's so lightweight, thin and extremely easy to carry around in your pocket or when out about on a nightout.
You wouldn't even know it was in your pocket it's that light and sleek to carry.
Taste & Flavours
For such a small compact vape pen, The Goods 45% CBD Dab Distillate vape pens are absolutely bursting with flavour and tasty terpenes.
I went with the Pineapple Express and Zkittlez terpene profiles and both were extremely flavourful.
The Pineapple Express has a very pungent fruity, pineapple to mango-esque flavour, it's almost like drinking a bottle of tropical fruit juice once it hits the palate.
The Zkittlez was my favorite overall and had a more sweet candy flavour with hints of berry coming through.
Great flavour and terpene profiles overall, very satisfying to vape on.
Effect
The Goods 45% Dab Distillate Vape Pens as you can imagine from the name are a near dab level potency vape pen.
One to two hits from the vape I found gives an almost instantenous strong relaxing, anti-anxiety CBD effect.
The Dab Distillate Vape Pens are a one to two hitter pen for me potency wise and that's with a decent tolerance to both CBD and cannabinoids.
I found the Dab Distillate vape pens excellent for winding down at night or when acutely instant relief was needed from anxiety or stress.
The dab distillate vape pen lasted me about a month and a half of fairly regular usage.
Overall
If portability is what you require then The Goods Dab Distillate Vape Pen would definitely be one of my top choices.
You likely won't find a more sleek, compact, portable, flavoural or potent disposable CBD vape pen currently on the market.
Plus The Goods have lots of different flavours and terpene profiles to choose from.
Overall another top quality product from The Goods.  Highly recommend for the CBD vapers out there.
I have been extremely impressed with all the CBD products I have had the pleasure of reviewing so far from The Goods.
We also have more reviews coming very soon for The Goods Blood Orange/Pink Grapefruit 80% CBD Wax's and their Limited Edition Drop Sour Sucker Punch CBD Flower, so keep an eye on our blog for updates.
Information
Price
£19.99 per vape pen
Where To Purchase
For more information or to purchase check out HempElf at: HempElf
The post The Goods – Pineapple Express & Zkittlez 45% CBD Distillate Dab Pen Review appeared first on The CBD Blog.
Source: https://thecbdblog.co.uk/cbd-product-reviews/the-goods-pineapple-express-zkittlez-45-cbd-distillate-dab-pen-review/