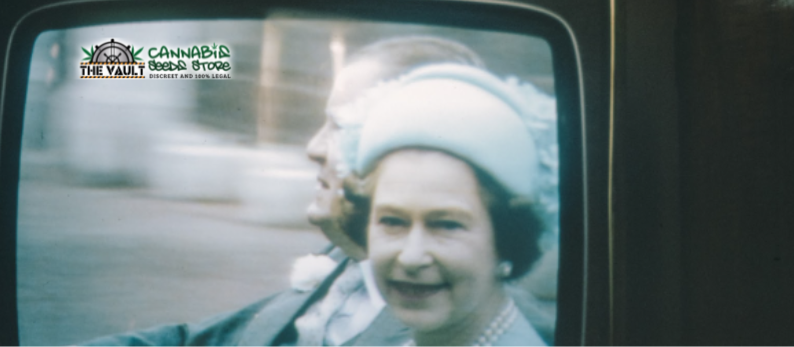 As most of you living in the UK will know, this weekend is the Queen's Platinum Jubilee. This means days off work and…well as far as I'm aware that's all it means. Other than that it's just hurray, the parasitic monarchy is still in full force. Now I am not what one would call a royalist but after the parasitic comment I'll try to be nice. You know just in case the only person who both smokes weed and loves the royal family is reading this. Anyway whether you love them or hate them the chances are you might have got a long weekend out of them. So let's have a look at the best strains for completely shutting off from reality, for enjoying a little bit of work time socialising, or I guess potentially for attending some sort of party. 
Atomic
If you want something powerful to completely distract your brain from the big old Union Jacks all over the place. This strain is the perfect tiny holiday companion as its effect is powerful, long lasting but still has a slap of energy to it that is great for any activity. This strain is particularly powerful and will usually have a THC level of around 22 – 26%. It certainly tastes like a holiday strain as well. It has a bright mixture of flavours including citrus, berry, mint and fuel. Ok maybe an odd one out there but it's still pretty damn good. This strain is also cerebral and creative so it's perfect if you want to distract yourself with some fun arts and crafts. Or maybe some political artwork expressing your distaste for the monarchy. I'm not going to tell you what to do. This strain has a flowering time of 8 – 9 weeks and grows well indoors or outdoors. 
Purple Queen 
Look at me I did a themed one, aren't I a good boy? Purple Queen is the perfect strain for anyone who just needs to pass out for a few days and get a little bit of their energy back. Purple Queen has a full body effect that is strong, sleepy, relaxing and long-lasting. If you've been working like a dog just to pay your bills while a bunch of normal humans who don't do much choose which of their publicly paid for houses to hang out in then this is the strain for you. Ok I'll promise that's the last one, I'll be good. This strain has a pretty high THC level of 22% so she is not for the faint of heart. I would suggest putting on your fluffiest outfit, getting snacks, curling up and watching your favourite film until all of this blows over. Have a nice nap, you've earned it. Purple Queen has a flowering time of 49 – 56 days and can be grown indoors or outdoors. 
Girl Scout Cookies
Do you want to do some partying or socialising this weekend? Then this is the strain for you. This strain is famous for being cerebral, euphoric and very talkative. If you want to use your time off to try and get in some much needed time with other humans then go for Girl Scout Cookies. This is a great strain for just seeing a couple of people when you're knackered or for going to a larger event. It's also a fantastic medicinal strain which is usually used to relieve pain, muscle spasms and other forms of discomfort. This is another strong strain that has a THC level of around 22% so if you plan on going out on it maybe ramp up slowly. Not only is this strain great for socialising but overall is one of the most impressive strains on the market. She has won a number of awards and has been used in multiple cross breeds. Girl Scout Cookies has a flowering time of 55 – 63 days and can be grown indoors, outdoors or in a greenhouse. 
Cinderella 99
Maybe, like me, you are your own boss or don't get paid time off and need to get some work done this weekend. In that case I would recommend Cinderella 99, a focused but cerebral strain. It's high is happy, creative, stimulating and uplifting, so perfect if your brain is struggling due to all your mates messaging you asking what you're doing with the long weekend you don't have. Not just ideal for getting work done but if you have chores to sort before you can go out and enjoy yourself or really any admin to get out of the way this strain will focus you and speed you up whilst making you happier about the whole affair. The high is as clear and bright as the flavour which is a combination of fruits and tangy citrus. Cinderella 99 takes 7 – 8 weeks to flower and can be grown indoors, outdoors or in a greenhouse. 
Dark Chocolate
If you are super stressed out, need to relax, and want to just ignore all the media and nonsense of the weekend then try Dark Chocolate. This strain is the ultimate in slowing down and relaxing. The effect is soft and comfortable but also euphoric. So this strain won't just completely shut you down for sleepy time but it will just dull that anxiety and stress that's pumping through your body like a slow acting poison. That might be a bit dramatic but damn it I'm a writer. It has a lovely uplifting side to it so if you want to have a buddy over for a cuddle and some games or something then it's perfect. The THC level usually gets around 21 – 22% so another pretty strong one. I figured you lot might need something powerful to get through the jubilee. Dark Chocolate has a flowering time of 58 – 63 days and can be grown indoors or outdoors. 
Well babies, have a wonderful long weekend if you have it and don't if you don't I guess. If you are excited about the jubilee and just love you some royal family I apologise for my comments…I mean not really but should probably say something to that effect. 
Written by Tasha Porritt
Newsletter Sign Up
Make sure you never miss another Vault promo – sign up for our newsletter at https://www.cannabis-seeds-store.co.uk/the-vault-newsletter
Remember: It is illegal to germinate cannabis seeds in many countries including the UK.  It is our duty to inform you of this fact and to urge you to obey all of your local laws to the letter.  The Vault only ever sells or sends out seeds for souvenir, collection or novelty purposes.
Photo by Annie Spratt on Unsplash
The post Best Strains For Surviving The Jubilee first appeared on Cannabis Seeds News.
Source: https://www.cannabis-seeds-store.co.uk/Cannabis-Seeds-News/best-strains-for-surviving-the-jubilee