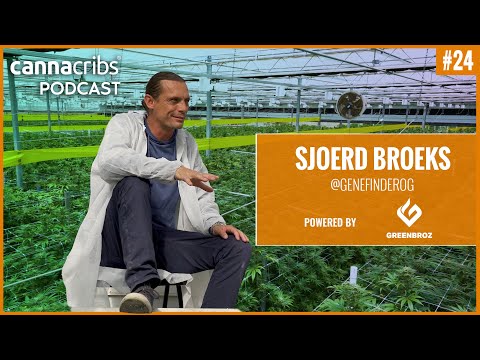 Cannabis Genetics, Breeding and Growing with @GeneFinderOG – Sjoerd Broeks
In this episode of the Canna Cribs Podcast, Nick talks with Sjoerd Broeks as he tells us about his plant background in Holland, his past adventures, the transition to the U.S. and more! Enjoy this episode about cannabis genetics, breeding and growing with @GeneFinderOG – Sjoerd Broeks. You might know Sjoerd from his work with: Genefinder Originals, Karmasquad, The Pharm, Sunday Goods, Smugglers Reserve and Alchemy29.
Canna Cribs Podcast is dedicated to bringing you the best guests from the cannabis space to continue providing our viewers new, educational content for professionals, homegrowers, and enthusiasts.
Powered by
GreenBroz
https://www.instagram.com/greenbroz_inc/
TREEZ
https://www.instagram.com/treez.io/
https://www.treez.io/podcast
Horticulture Lighting Group
https://www.instagram.com/horticulturelightinggroup/
Grodan
https://www.instagram.com/grodan101/
Athena Nutrients
https://www.instagram.com/athena.ag/
~~~~~~~~~~~~~~~~~~~~~~~~~~~~~~~~~~~~~~~~~~~~~~~~
Subscribe for more amazing videos! ► https://bit.ly/3ghNVCs
You can join the forum and learn more about growing at: Growers Network
Follow us on Instagram:
http://instagram.com/cannacribs
http://instagram.com/growersnetwork
Check out Sjoerd Broeks on the interweb!
https://www.instagram.com/genefinderog/
_____________________________________________________
Table of Contents:
00:00 Opening
01:12 Shout out to GreenBroz, Treez, Grodan, HLG, and Athena Nutrients
01:52 Sjoerd's background and beginnings
07:52 The Flying Dutchmen
11:05 Holland in the cannabis industry
17:38 How will the market advance?
19:53 Projects abroad
29:27 Moving to the United States
32:44 Different genetics
35:20 Starting with Sunday Goods and The Pharm
39:45 The Model G by Greenbroz
40:52 Sjoerd's breeding work
47:55 Tips for breeding a new variety
50:40 Recommendations for beginners and advanced growers
59:48 Sjoerd's use of tissue culture
01:03:55 The Model G by Greenbroz
01:05:50 Alchemy 29
01:10:05 Gene Finder Originals
01:11:00 How to contact Sjoerd
01:14:50 The future of Sjoerd's Operation
01:18:07 Cannacribs outro
__________________________________________________________
What's in the interview?
How did you start with cannabis?
How did the Netherlands gain an advantage in the cannabis industry?
How will the cannabis market be in the future?
Projects abroad
Moving to the United States
what genetic varieties do you work with?
How was your start with Sunday Goods and the Pharm?
The Model G By Greenbroz
what is your breeding work?
what do you look for in a new breed?
Do you do any tissue culture?
The Model G by Greenbroz
What can you tell us about Alchemy 29?
what is Gene Finder originals?
What is in the future for your operation?
~~~~~~~~~~~~~~~~~~~~~~~~~~~~~~~~~~~~~~~~~~~~~~~~
#cannacribs #sjoerdbroeks #genefinderog #alchemy29 #sundaygoods #greenbroz #cannabis #treez #horticulturelightinggroup #hlg #grodan #athenaag #athenanutrients #growingcannabis #growingmarijuana #medicalmarijuana #marijuana #howtogrowweed #smoke #weed #smokingweed #maryjane #customgrow420 #qualitycontrol #Hollandcannabis #smugglersreserve #karmasquad #awardwinning #organiccannabis #podcast #cannacribspodcast #cannabisresearch #cannacribswebsite #growingexposed #podcast #DNA #cultivar #strain #breeding #education #nothingforsale #nfs
Source: https://cannabisworld.biz/2022/09/07/%f0%9f%8c%b1-cannabis-genetics-breeding-and-growing-with-genefinderog-sjoerd-broeks/