With the legalization of CBD and hemp-based products as outlined in the 2018 Farm Bill, CBD-infused drinks will become increasingly popular and available. Such drinks can include coffee, tea, and water.
CBD can be consumed in different ways through a variety of premium CBD products. It is becoming increasingly straightforward to use CBD every day by mixing it with food and beverages. CBD is getting added to just about everything, so its culinary applications will be the next big thing.
The making of CBD drinks is becoming more sophisticated as the market grows. Although CBD is usually taken as an oil for dissolving easily into edible forms, new technologies are enabling water-soluble versions of CBD that offer many advantages, including the ability to add it to a wide range of beverages.
What Are CBD-Infused Drinks?
Drinks infused with cannabidiol (CBD) are exactly what they sound like – beverages containing the substance. CBD is a non-intoxicating substance that comes from Cannabis sativa. Industrial hemp contains a negligible amount of tetrahydrocannabinol, the psychoactive component of CBD, which has been legalized by the Farm Bill.
In humans, CBD molecules bind primarily to cannabinoid receptors located within the endocannabinoid system (ECS). CBD can assist the ECS in performing its beneficial functions of promoting balance and health by supporting it.
Consumers are attracted to CBD because of these benefits. With CBD infused in drinks, CBD companies have created one of the most popular options that won't make consumers feel euphoric or high.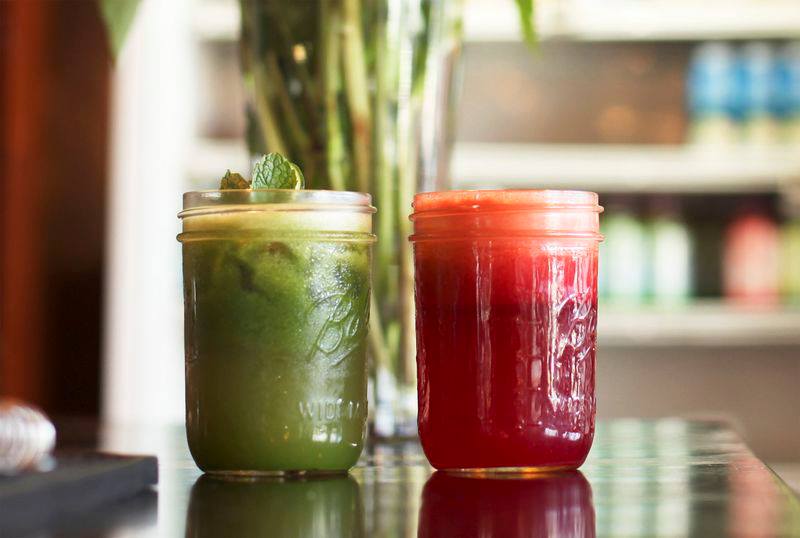 How Are CBD-Infused Drinks Made?
The process of making a CBD drink may seem as simple as stirring a few drops of CBD oil into liquids. The way CBD drinks are prepared at large-scale bars and lounges is quite different from how they are prepared at bars.
You've probably seen how oil floats to the top of a mixture of oil and water. While you can vigorously shake or stir both together, the oil does not dissolve entirely and, within a few moments, will reappear on top of the water.
As a crystal, CBD is not particularly palatable to humans in its natural state. This is why it is normally sold as an oil. Crystallized crystals are oil-soluble, but not water-soluble, so most manufacturers prefer to incorporate them into edible oils. It's likely that a CBD oil tincture, gummy, or capsule is made from oil that's been infused with CBD and then blended with other ingredients. 
But drinks that really contain CBD oil need to use water-soluble CBD.
CBD Infused Alcohol Drinks
In our fast evolving world it is only essential to go back to the roots of nature and unite it with modern technology, to receive the best outcome possible. One of the most popular and healthy trends for breweries these days is to infuse their alcohol with CBD. You can see CBD added to many things, starting with clothes, cosmetics, up to liquor, beer, even some cocktails at fancy bars are looking more attractive on the bar-map menus, if it is something more special, than a regular gin and juice. And of course, the stigma behind CBD is becoming more and more irrelevant, but doesn't help prejudice, or does it?
It is ok to wonder whether CBD mixed with alcohol is a good idea, will it only apply to the taste, to its effect or maybe make you feel drunk and high at the same time, so is it safe? To keep you from diving into complex biological and chemical sides of the story, we will just underline the outcome: more and more bars add CBD to their cocktails, coffee shops to their soy milk lattes, even a smoothie with avocado and celery, many places now you will find it, and more and more studies show that it is in fact safe and good for your inner system.
CBD has many benefits, whether it is applied to your mental health or physical health, by influencing our mind and soul in every aspect, the main effect of CBD infusion to food or alcohol is mostly to create balance. Isn't it lovely to have some more balance on a daily basis, or those Friday nights with your friends' casually getting fish and chips too?
Nowadays science only takes a big leap towards all the beneficiary features of nature's treasure, while CBD becomes a daily support and addition to many lives.
CBD infused drinks are usually affecting your mood and general feelings, by making you tipsy in a very essential way, provide relaxation and help you catch that perfect balance of enjoying your drink and finding it delicious. Therefore, you may say 'bye' to hangovers sponsored by toxic additions of unnatural origin of your drink, and open the door into the world of freedom, relaxation and pleasure.
What Are CBD-Infused Drinks?
High quality CBD infused drinks and careful step-by-step checking of every stage of the process will absolutely let you enjoy your night out, your quiet evening or a gathering with friends, as you should. Natural origin and gluten free compositions of pot liquor will keep you happy and not cause any distress, let alone allergy reactions. Despite all the negative sides of alcohol and drinking, scientists studies suggest that CBD has a full possibility of being a natural shield for the damage alcohol may carry to our organs and mindset, therefore nearly canceling all the "dark sides of the moon" effects, when it comes to casual drink sipping, it protects your liver, helps to take care of all the unnecessary toxins, doesn't make you feel addicted or adds to any withdrawals in any case.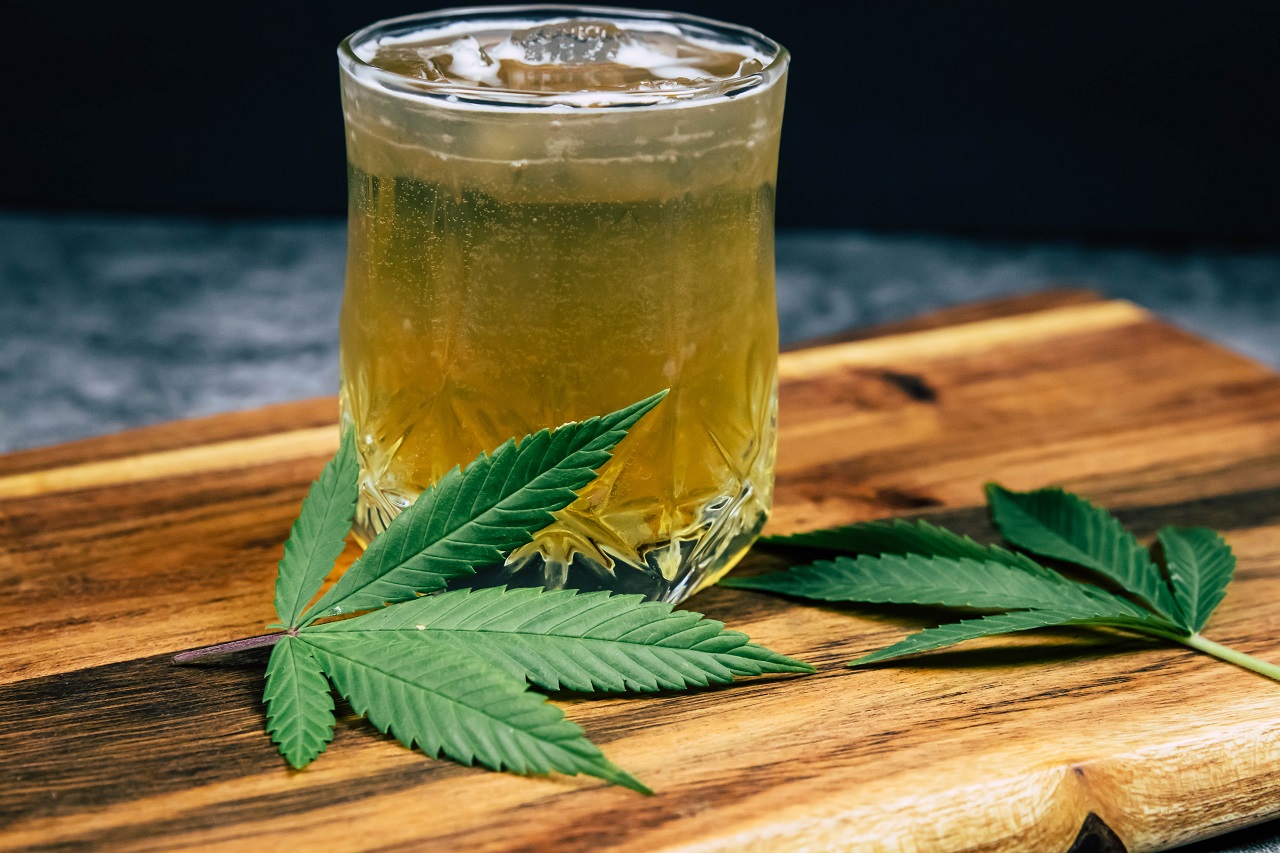 What Is Water-Soluble CBD?
A water-soluble CBD product is one that has been designed to dissolve in water efficiently, just like CBD-infused drinks do. Producing such products, however, is anything but easy. Typically, CBD is dissolved into a colorless and odorless oil derived from natural sources.
Using nanotechnology, we create tiny droplets out of the oil, creating a stable additive that blends seamlessly with whatever it blends into without changing its taste, color, and consistency.
As part of our approach to crafting water-soluble CBD products, such as our CBD drink mixes, we use nanotechnology to enclose the hemp extract in incredibly small containers. As for the outer side, the oil-soluble side bonds with fat-soluble substances such as CBD, and the water-soluble side is the inner surface. If you mix it with water or a water-based drink, the CBD molecules can disperse more easily.
Are There Any Benefits of Using Water-Soluble CBD for Drinks?
Apart from the fact that oil-based CBD is hydrophobic – meaning that it cannot mix with water – another significant benefit is the increased bioavailability. 
Biological availability is the proportion of a substance that makes its way into your bloodstream after consumption. How often you need to take it depends on how you take it and with what else you take it with.
CBD ingested typically has the lowest bioavailability among CBD delivery methods since it must pass through "first-pass metabolism" and be broken down before entering the bloodstream. 
To ensure that you get the full therapeutic benefits of CBD oil, the directions on Marry Jane's CBD oil tinctures suggest holding it under your tongue for 30 to 60 seconds before swallowing. CBD can bypass the digestive system and enter the bloodstream in about 30 minutes if it is absorbed through the mucous membrane of the mouth.
A substance that dissolves in water is different from water itself. Because 60% of your body is water, you do not have to break it down like you do with food so your body can extract the useful bits. It seems like an oil-based CBD solution would work better than a water-based one, right?
According to theories, CBD is more readily absorbed when it is water soluble. Additionally, the CBD drink's effects are felt much faster because it does so at a much faster rate.
Since CBD is absorbed better this way, therefore less CBD needs to be added to the products for the user to obtain the desired effects. In a half-hour, you can feel the effects of drinking a CBD drink without holding it under your tongue.
Making a homemade CBD drink with water-soluble CBD is more efficient than stirring drops of oil tincture. The CBD molecules already attach to water molecules, so it is as simple as adding water-soluble CBD directly to drinks.
Introducing Marry Jane's Water-Soluble CBD Tinctures
CBD tinctures with water-soluble CBD are similarly produced with nanotechnology as powdered drink mixes, but on a different medium. Our traditional tinctures are made with MCT oil, a kind of vegetable oil that is derived from coconut oil or palm kernel oil, while our water-soluble tinctures are made of glycerin.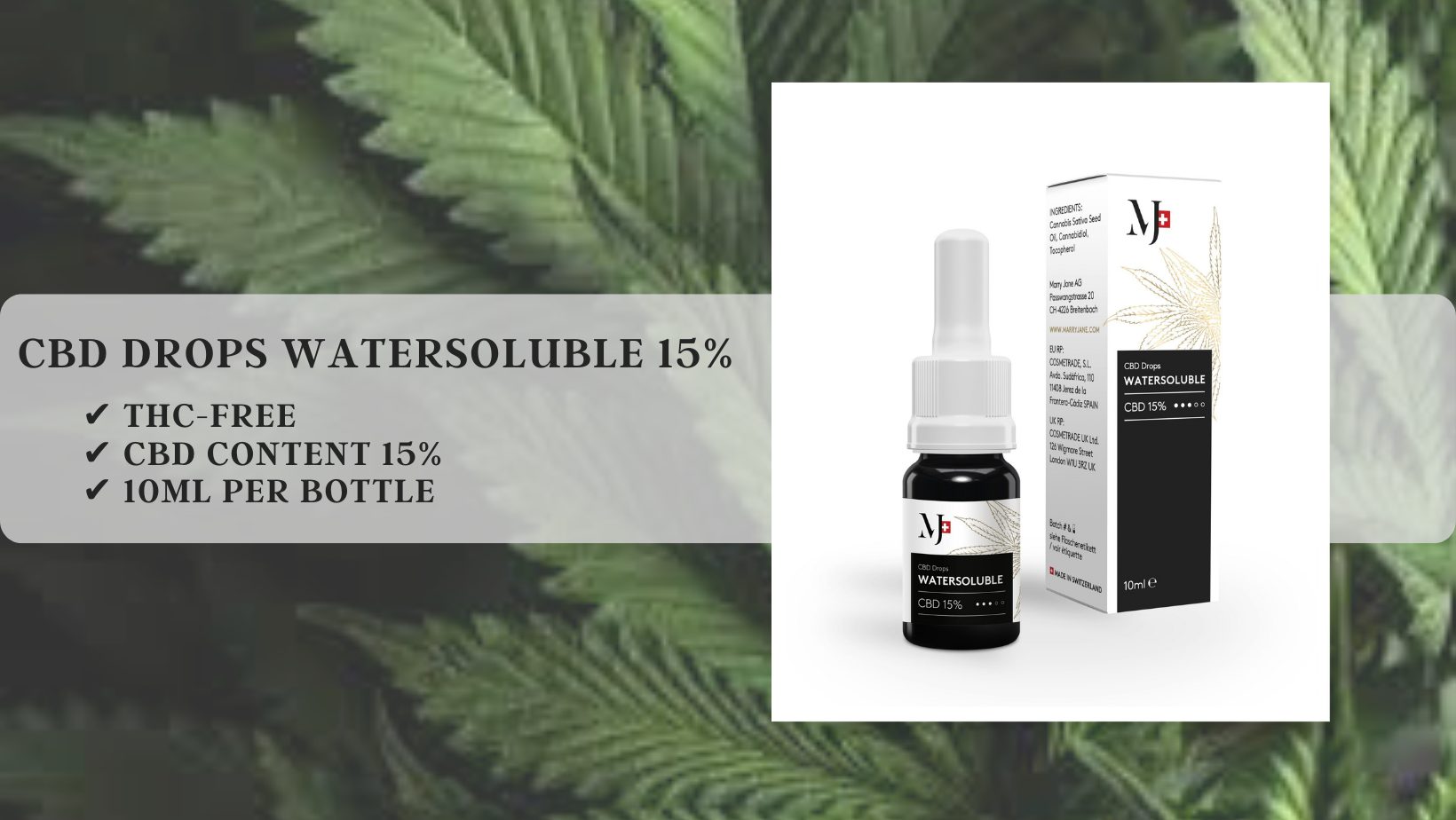 Glycerin, also called glycerol, is a naturally occurring sweet substance that is derived from plant and animal fats (ours is plant-based), but it is not an oil. The new water-soluble tinctures will be thicker than the MCT oil versions because it serves as a thickener for liqueurs. Despite this, they still dissolve fairly readily in water and in your mouth. There is no need to hold the tablet under your tongue before swallowing.
Moreover, CBD tinctures can be made into more drinks than oils because of their water-soluble nature. The glycerin we use is naturally mildly sweet, so we will offer unflavored and lemon-flavored versions. That's right, you can make delicious drinks with it! We've got a whole family of CBD recipes on this site, but here are some drinks that can be made with water-soluble CBD and are particularly tasty.
Here are 3 recipes to make CBD-infused drinks at home
Now that you know what CBD-infused drinks are and why they are so popular, it's time to learn how to make your own CBD mix.
1. CBD Cosmopolitan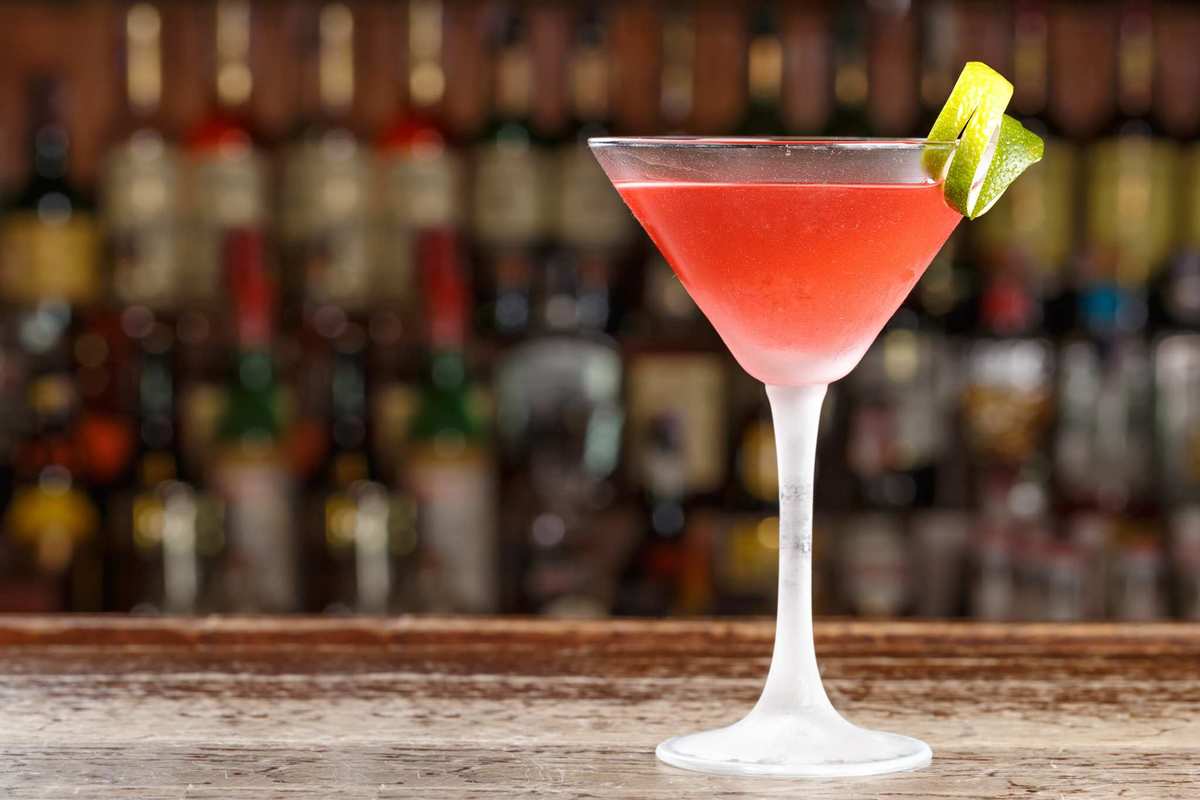 It's the perfect cos-faux to relax alone and to share with friends.
Ingredients
Approximately 90 ml of cranberry juice

CBD tincture in 7 ml of water

Lime juice of 20 ml

Orange juice in 20 ml 

Garnish with orange twist
Instructions
In a cocktail shaker over ice, combine all ingredients (except for the orange twist). 

Pour into a chilled martini glass after shaking vigorously for 20-30 seconds.

Enjoy and garnish with a twist of orange!
2. No-Fat CBD Latte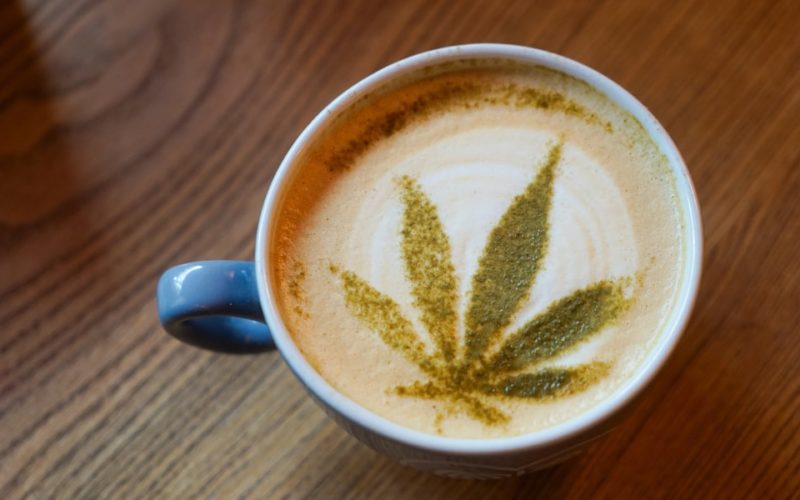 Due to the combination of the oil and milkfat in a latte, CBD oil is usually well suited for consumption as a regular drink. Would you recommend that you use a fat-free milk substitute if you are watching your fat intake? In that case, water-soluble CBD would be a good choice. 
Ingredients
The amount of ground coffee you like should be between two or three scoops

Approximately 1 cup of skim milk or a milk substitute

Water-soluble CBD 

The glycerin is sweet and may require less sweetness than normal, so add honey, vanilla extract, or other sweeteners (just keep in mind that the glycerin is sweet).
Instructions
Brew coffee and pour into a cup.

Over low heat, combine milk, CBD tincture, and sweeteners in a saucepan (including your desired serving of CBD tincture).

Whisk ingredients together and heat until warm.

Pour combined ingredients into your cup of brewed coffee.

Pour over ice or enjoy the warmth.
3. CBD Lemonade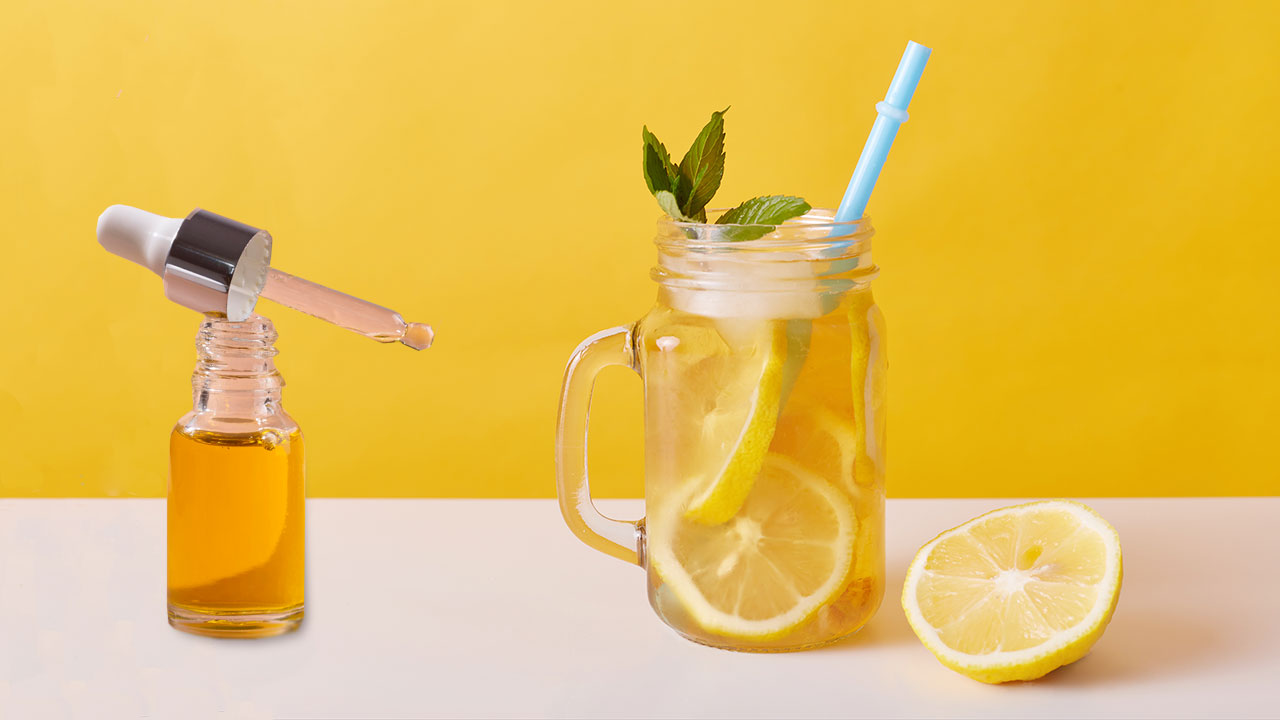 Nothing beats the classics when it comes to summertime sipping. Infusing your lemonade with CBD can make a warm afternoon on the patio even more relaxing!
Ingredients:
2 cups fresh-squeezed lemon juice

1½ to 2 cups sugar

10 cups water

10-30 mL water-soluble CBD tincture (lemon flavor)
Instructions:
In a medium saucepan, combine the sugar and 2 cups of water. Use less sugar if you prefer your lemonade to be less sweet.

Bring the mixture to a boil and gently stir until all sugar is dissolved. Allow the mixture to cool at room temperature and then refrigerate until chilled in a sealed container or glass. (This is your simple syrup.)

Juice your lemons and remove the seeds, leaving the pulp if you'd like.

In a large glass or pitcher, combine your chilled simple syrup with the lemon juice. Add the remaining 8 cups of water and stir to combine.

Add the CBD tincture and stir to combine.

Refrigerate until ready to serve. Putting lemon slices and mint springs in the glasses or punch bowl adds extra flavor and pizzazz!  
Tell Us About Your CBD Drink Experience!
How did your CBD-infused recipe turn out? Did you put your own spin on it? Do you have a recipe of your own you want to share? We want to hear it all! Share your CBD drink recipes and experiences with us and the Team Marry Jane  community on social media!
Source: https://marryjane.com/blog/everything-you-need-to-know-about-cbd-infused-drinks/