This week's CBD product review and up this time we have the amazing quality Sour Jack Full Spectrum 90% CBD Vape Cartridge from Improved Health LTD.
Improved Health LTD, formerly known as CBD Enthusiasts are a UK retailer of premium CBD products including a wide range of CBD Oils, CBD Capsules, CBD Extracts, CBD Skincare and CBD Vape Cartridges.
They also produce a range of health supplements such as medicinal mushroom extracts, seamoss with added bladderwrack/burdock root and shilajit.
Improved Health LTD describe their tasty Sour Jack Full Spectrum CBD Vape Cartridge as:
Sour Jack is a heavy dominant sativa strain. (70% sativa – 30% indica). The acute sour odor of this strain is the signature aroma of Sour Jack.
This would give the users the blend of lemony and fuel aromas combined with the hints of menthol and pine. This flavoursome strain will be nearly close to its aroma and is more or less like that of lemon soda. 
Each CBD vape cartridge is totally free from PG, PEG, VG, MCT.
510 thread friendly vape cartridges with an impressive full spectrum CBD content of 90%!
Improved Health LTD CBD Vape Cartridge range comes in many different flavours/terpene profiles including Blue Cheese, Pineapple Express, Strawberry Cough, Banana Runtz and the tasty Sour Jack I am reviewing today.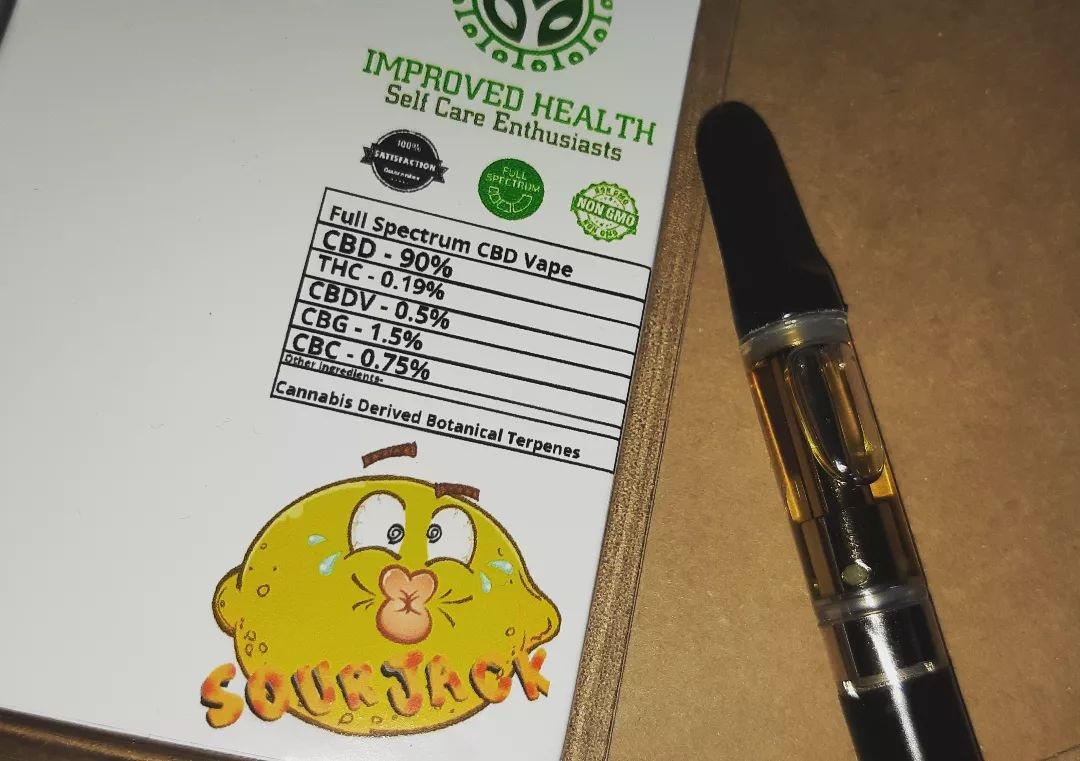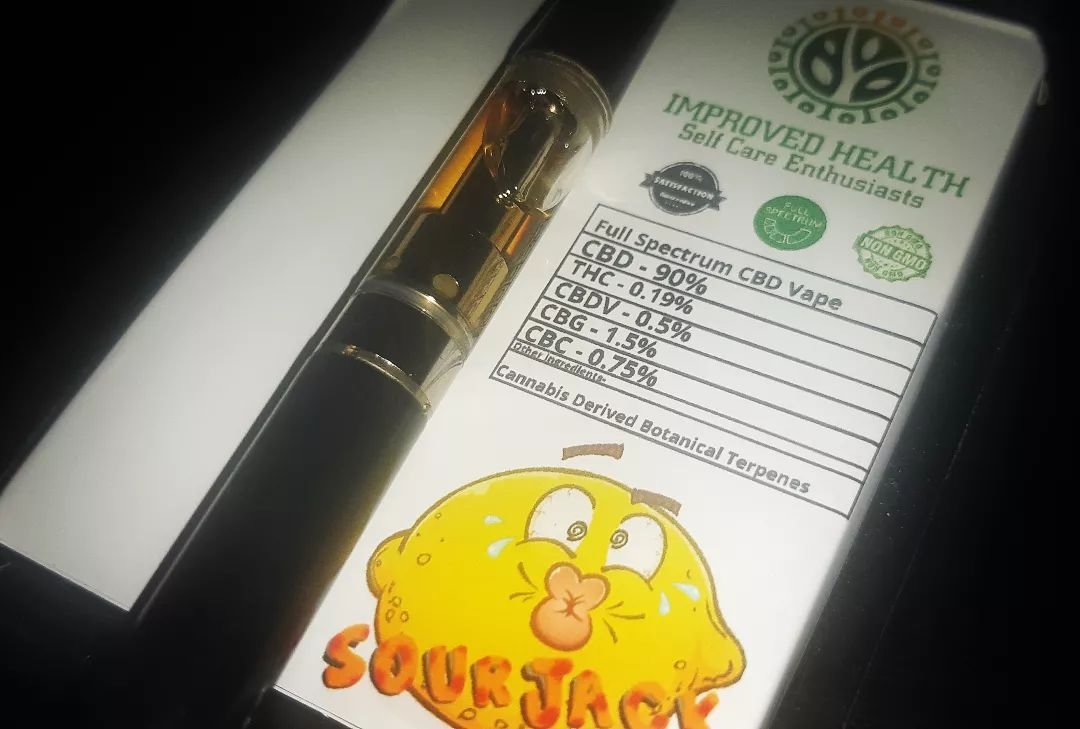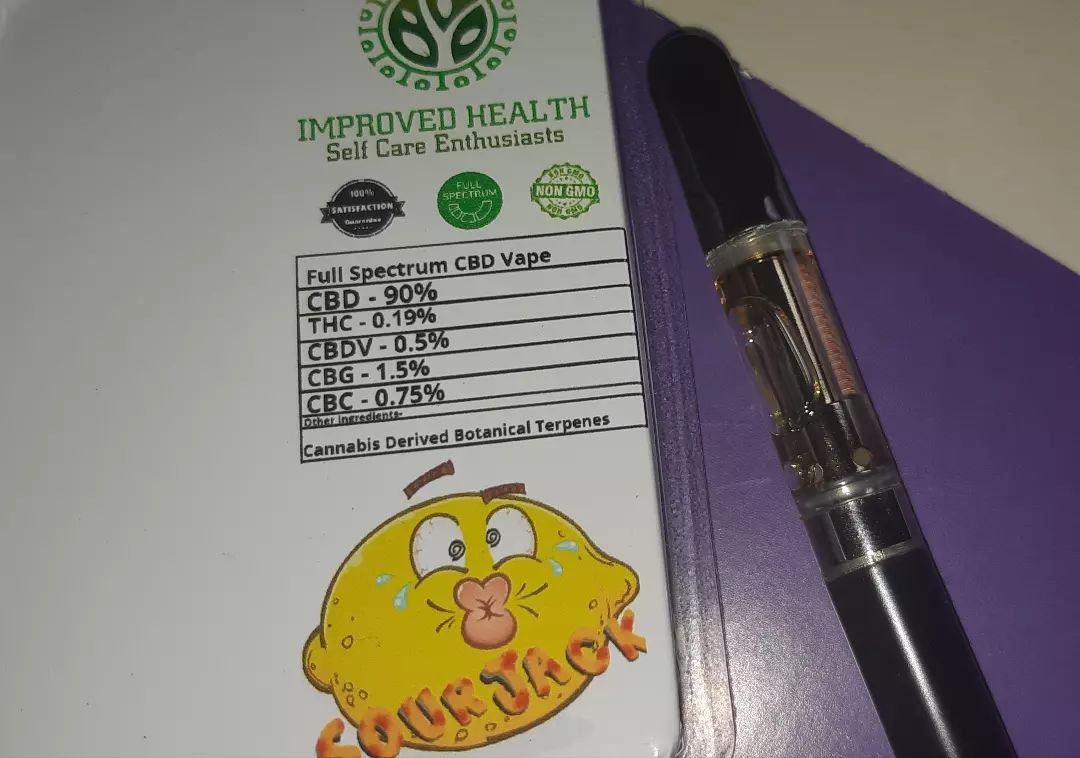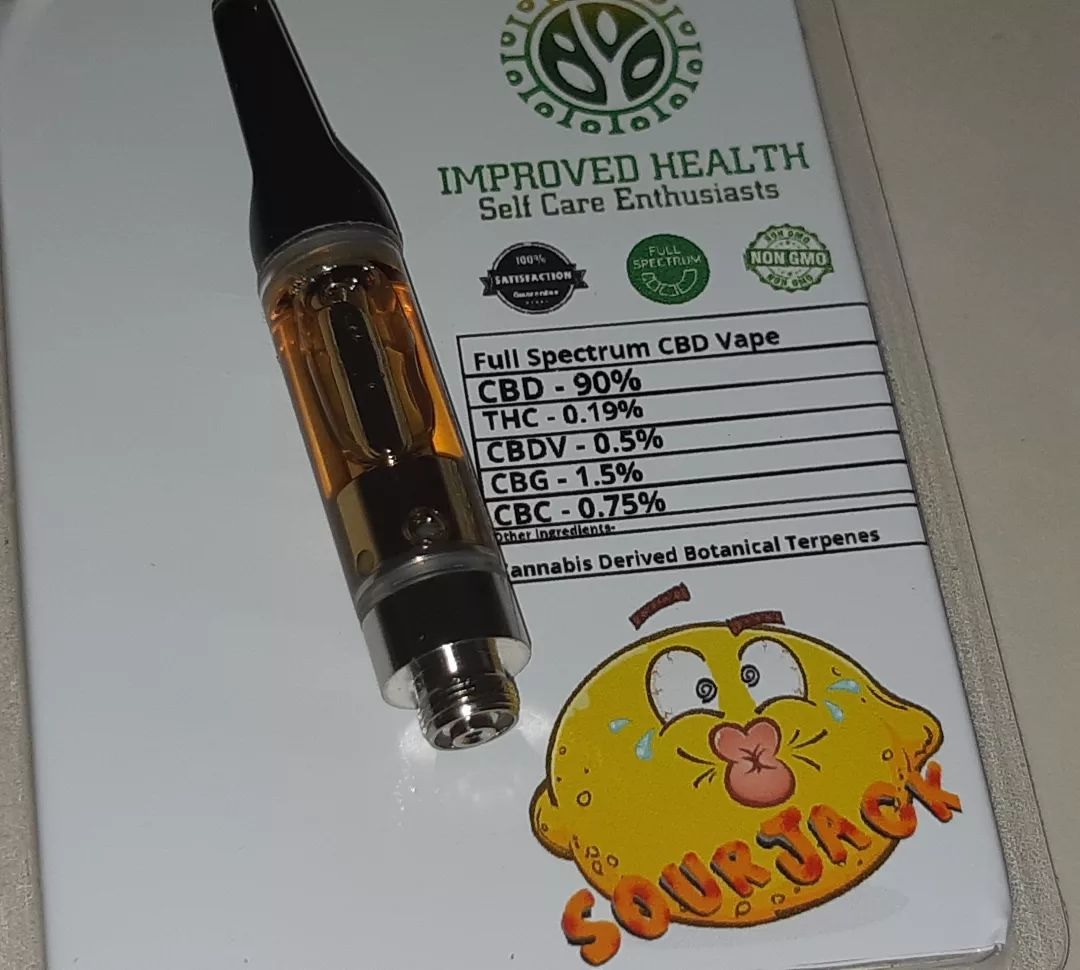 The CBD Blogger Review
Firstly I would like to start off the review by saying many thanks once again to the Improved Health LTD team for providing lots of generous samples of their products for reviewing here at The CBD Blog.
I have been a huge fan of CBD Enthusiasts for many years now, which was the former creation of Improved Health LTD.
I've always been highly impressed with the consistently high quality of their products, not to mention the market leading prices.
I reviewed many products from the previous CBD Enthusiasts venture including their Dog Walker OG Terpene Infused 90% CBD Crumble, Zkittles 86% CBD Vape Cartridge to their Full Spectrum 1500mg Indica CBD Oil.
So as always I was very excited when the Improved Health LTD team reached out to offer me the chance to sample their new range of CBD products including the brilliant quality CBD oils/capsules to their CBD Vape Carts.
I have been vaping Improved Health LTD's amazing Sour Jack religiously over the past few weeks and really can't get enough of their new full spectrum 90% CBD vape cartridge range.
For our readers who are connoisseurs of the CBD vape cartridge scene, I suspect they will be very impressed with Improved Health LTD's latest offerings here with their full spectrum 90% CBD Vape Carts.
Taste & Flavours:
Very tasty flavours from the Sour Jack CBD Vape Cartridge, which is made using cannabis derived botanical terpenes.
The Sour Jack has a very immediate noticeable hashy cannabis aroma upon vaping.
A really nice terpene profile for the lovers of hashy, skunky Sativa dominant marijuana strains with abit of mild zesty almost lemon terps thrown in.
The Sour Jack terpene profile really compliments the effect of the carts amazingly to give a very authentic cannabis vaping experience.
The carts have a good amount of throat hit to them without burning also, which really adds to the satisfying effect.
I'm very eager now to try Improved Health LTD other flavours of their full spectrum CBD vape cartridges to see how they compare.
Giving the Sour Jack a 10 out of 10 for taste and flavour.  Tasty, authentic, hashy, cannabis terps.
Effect:
The Sour Jack is a Sativa dominant terpene profile (70% sativa – 30% indica) and coupled with the full spectrum cannabinoid nature of the carts, they have a really nice uplifting, energizing and Sativa-esque effect.
Probably the most stimulating in effect of all CBD vape cartridges that I have tried to date, but also has a nice relaxing, anti-anxiety and calming CBD effect to balance it out.
Great choice of CBD vape cartridge for day time vaping purposes or for when you need to remain functional at work.
Some CBD vape carts can be too tiring or sedating in effect, which is great for chilling at night or for aiding sleep, but sometimes you just need a proper Sativa dominant terpene profile/strain like this to keep you functional but also allow you to medicate during the day.
I'm a huge fan of Sativa dominant strains and terpene profiles as our past readers will already likely know, so the Sour Jack Full Spectrum 90% CBD Vape Cartridge ticks all the boxes for me as far as effect goes.  Top quality.
A definite 10 out of 10 for effect here.  One for the Sativa lovers out there.
Overall:
The Sour Jack is an amazing quality CBD Vape Cartridge overall.
I've now tried lots of different CBD Vape Carts from many different brands and I would say the full spectrum Sour Jack has been one of my favorite CBD vape carts I have reviewed here on the blog as far as effect goes.
The uplifting, energizing, Sativa-esque is very hard to rival but at the same time provides a really nice balanced classic relaxing, anti-anxiety CBD effect.
A top CBD Vape Cartridge all in all, can't wait to try their other flavours to see how they compare and if the effect is radically different per terpene profile.
We also have lots more reviews coming soon for Improved Health LTD's products including their full spectrum RSO CBD Oil, 2000mg Broad Spectrum CBD Oil and their Full Spectrum CBD & CBG Capsules.
I'd definitely recommend our readers to head on over to Improved Health LTD official website and check out their amazing and very well priced CBD products.
You can also keep up to date with Improved Health LTD's latest news from their Instagram.
Information
Price
£24.99 per vape cartridge or £30.00 with vape battery included.

Important Information
1ml vape cart
510 thread
Full spectrum CBD
Totally PG, PEG, VG, MCT free
CBD vape oil manufactured in compliance with GMP (Good Manufacturing Practices) in the UK
Made using cannabis derived botanical terpenes
Vegan and vegetarian friendly
Where To Purchase
For more information or to purchase check out Improved Health LTD at: Improved Health LTD
---

The post Improved Health LTD – Sour Jack Full Spectrum 90% CBD Vape Cartridge Review appeared first on The CBD Blog.
Source: https://thecbdblog.co.uk/cbd-product-reviews/improved-health-ltd-sour-jack-full-spectrum-90-cbd-vape-cartridge-review/