Celebrations are in order, so crack open a bottle… of your favourite CBD oil, that is! That's right, National CBD Day is nearly upon us. It's a relatively new holiday – 2022 will be the fifth celebration of National CBD Day – so all is forgiven if this is the first you're hearing of it. We've got all you need to know to observe this national celebration of cannabidiol, including how it came to be, how you can celebrate and how to snap up a sensational 25% off (+ free gift!) Mission C offer in honour of the day.
What is National CBD Day? 
National CBD Day is a countrywide celebration of cannabidiol and its life-enhancing benefits. The day was set aside by CBD proponents to appreciate the cannabis derivative and raise awareness of the great advantages it can bring to physical and mental health and wellbeing. This gigantic shout-out about everything CBD-related aims to instil confidence and boost understanding surrounding the cannabinoid while reducing the outdated stigma that may still be attached. After all, knowledge is power and understanding how CBD can benefit your health could significantly change your life for the better.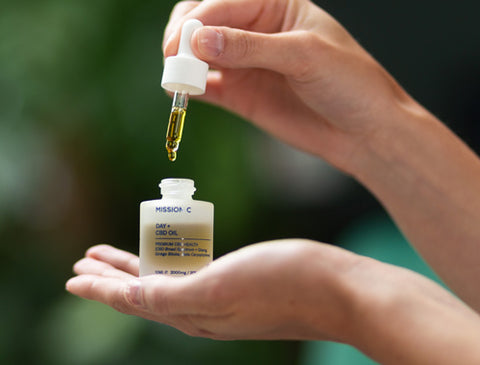 When is National CBD Day? 
The national celebration of CBD falls on the 8th of August each year. This year, in 2022, National CBD Day takes place on Monday 8th August.
What is CBD and Why Is It So Popular?
Cannabidiol, or CBD, is a natural chemical extracted from the hemp plant. Even in large doses, cannabidiol is non-psychoactive, so it won't make you high. This multifunctional substance may be consumed in a variety of ways, including via CBD oils, CBD gummies and CBD balms.
CBD provides an array of potential health benefits that have been studied in a growing number of scientific research trials. These trials are ongoing, and to date, the most promising findings relate to:
– Reducing anxiety levels
– Relieving pain
– Reducing inflammation
– Improving sleep quality
– Increasing focus
CBD's growing popularity can be attributed to the plethora of well-being benefits it can offer without psychoactive side effects, plus how easily CBD can be introduced to the body.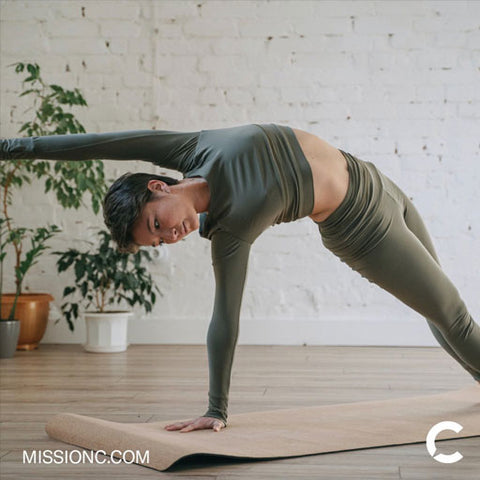 Why is CBD Awareness Day So Important? 
CBD is becoming increasingly popular as a wellness supplement but there are still overwhelming levels of misinformation out there. While many people have heard of CBD, too many remain unclear about the difference between CBD and THC and assume that CBD is simply another term for marijuana.
The Mission C brand was born to help spread the truth about CBD – that it is a legal, non-psychoactive, non-addictive substance that can be used to treat a whole host of physical and mental ailments, without causing a high. Misinformation surrounding CBD is detrimental in a number of ways, from people missing out on the phenomenal health benefits of the cannabinoid to the resulting lack of regulation of CBD products in the UK. National CBD Day plays a valuable role in raising awareness about CBD and its advantages, as well as where to buy genuine products from a reputable brand and how to use CBD to treat a variety of conditions.
How Should I Celebrate?
Celebrate National CBD Day however you wish! You might simply choose to take a moment to appreciate CBD and tell a friend how it has created a positive change in your life. Perhaps you'll create a social media post to share your experiences with CBD or invite friends over to try some CBD gummies or make a CBD-infused drink. You could treat a loved one to a luxurious CBD-infused product using Mission C's special 25% off + free eco bottle deal. There's a gift for everyone amongst our premium range of CBD oils, balms, moisturisers, gummies and bath bombs. 
Which Hashtag Should I Use? 
If you're keen to share your positive CBD experiences and inspire others on Instagram, Facebook, Twitter or TikTok, join the trend and use hashtags #NationalCBDDay and #NationalCBDDay2022.
The History of National CBD Day 
National CBD Day arose in 2018 after CBD enthusiasts pushed for the date to be set on 8th August to appreciate the cannabinoid and its significant uses in daily life. At that time, CBD was beginning to make waves as a healing and restorative supplement, and the stigma surrounding cannabis products had started to weaken.  
2018 stands out as a milestone year in the history of CBD. This year, the USA saw the introduction of the Farm Bill, which made industrial hemp cultivation legal so that CBD oil could be created.
Are There Any Special Offers on National CBD Day?
Yes! Mission C wouldn't dream of letting this momentous day pass without a sensational offer to mark the occasion. From 3rd August to 11th August, enjoy 25% off our entire range of CBD products, plus receive a free eco water bottle with your order!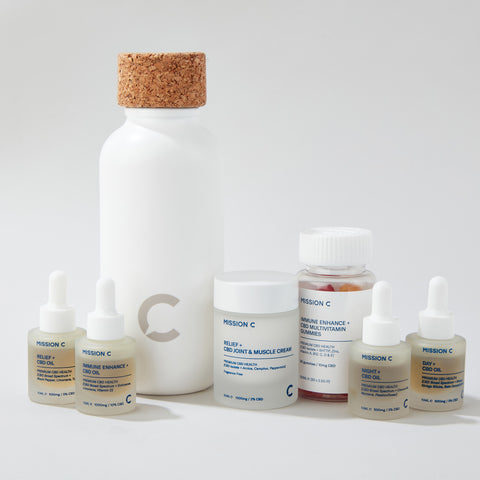 Choose from a range of premium products engineered to enhance your day and minimise those stresses and niggles – whether its CBD oil for anxiety relief and improved sleep, CBD muscle balms for pain and inflammation, CBD gummies for enhanced focus and less stress, or luxurious CBD-infused skincare products to soothe and rejuvenate the complexion.
Top Picks for National CBD Day
Here are Mission C's top picks for National CBD Day – order between 8th August and 14th August for 25% off plus a free stylish eco water bottle!
Night + CBD Oil
To enable you to unwind and have a good night's sleep, drop Night + CBD Oil under your tongue. It contains natural passionflower, chamomile, and myrcene for deeper, restorative sleep.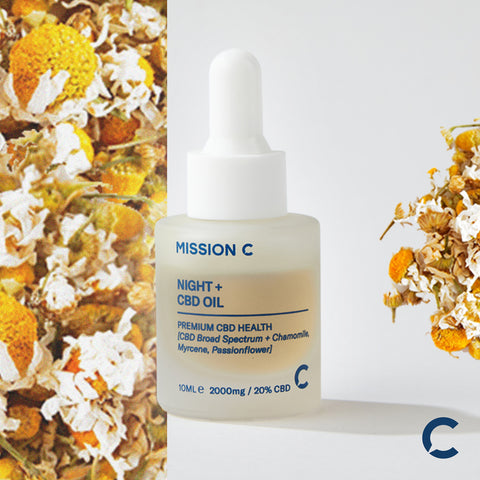 Shop Night + CBD Oil
CBD + Multivitamin Gummies 
To support your body's first line of defence against infection and illness, pop a tasty CBD + Multivitamin Gummy. An expert blend of CBD isolate, 5HTP, 2 minerals and 10 vitamins will help you feel your best, no matter what the day throws at you. Plus, the delicate taste of orange and strawberry is sure to brighten your day!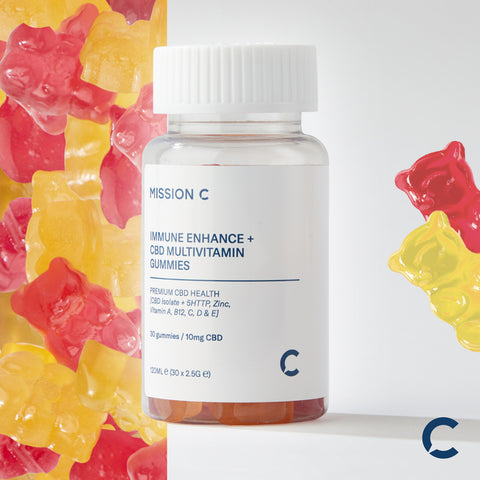 Shop CBD + Multivitamin Gummies
Hyaluronic Acid + CBD Facial Serum
This facial serum contains 1% natural hyaluronic acid and pure CBD, providing an intensively hydrating boost that helps restore the youthful bounce and suppleness of your skin.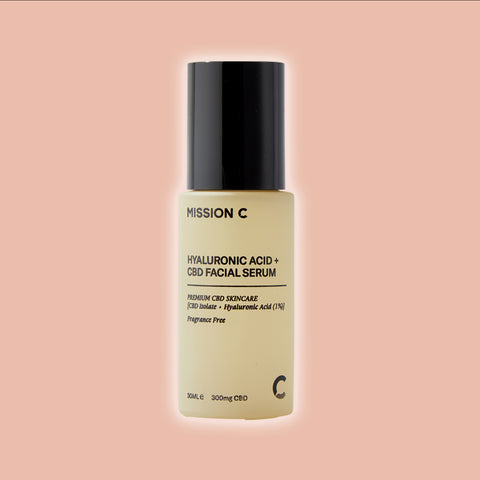 Shop Hyaluronic Acid + CBD Facial Serum
CBD + Cooling Muscle Balm
A high-strength, cooling CBD muscle balm infused with natural menthol, methyl salicylate, and peppermint to reduce inflammation, promote blood flow, and ease pains and stiffness. Ideal for post-workout or injury recovery.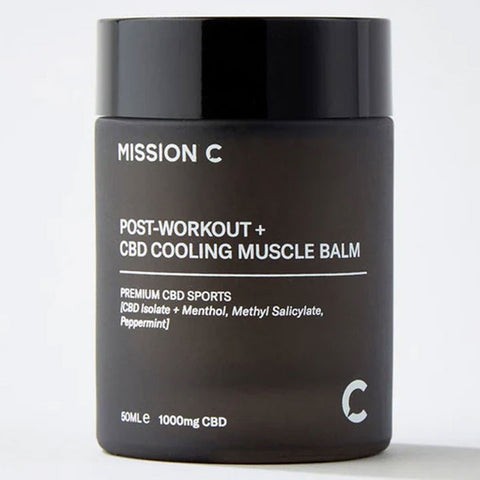 Shop CBD Cooling Muscle Balm
More on The Mission C Movement
As mentioned, Mission C was created from the idea that millions of people across the world might live better lives. We established six Cs for our company, which guide every decision we make and unite us as we pursue our goals.
Change – we're generating change by improving health and wellness through CBD, providing accurate information and shifting perceptions.
Create – we've created a premium brand with high-quality, natural ingredients.
Conversation – we're on hand for all you need with open, honest and balanced communication. Ultimately, we just love a good natter about CBD!
Collate – from user experiences to fresh scientific data, we're soaking it all up. We believe our findings will help us create an all-around enhanced Mission C experience.
Community – we're building a broad community that will include sports, health, and wellness organisations as well as an online forum to share CBD information to help those who need it the most.
Choice – we're helping millions of people make better-informed choices for themselves and their families.
Join the Mission
Upload a photo or video to social media and share your experiences with Mission C products. Don't forget the hashtags #missioncmovement #createchange and tag us @missioncofficial. Each month we will choose stories to feature on our website, giving you the chance to win a complimentary gift. 
By purchasing Mission C products and sharing your experiences, you are helping us to support communities who need CBD the most through our Mission C Foundation. You're also helping to increase awareness. Happy National CBD Day!
Source: https://www.missionc.com/blogs/news/national-cbd-day