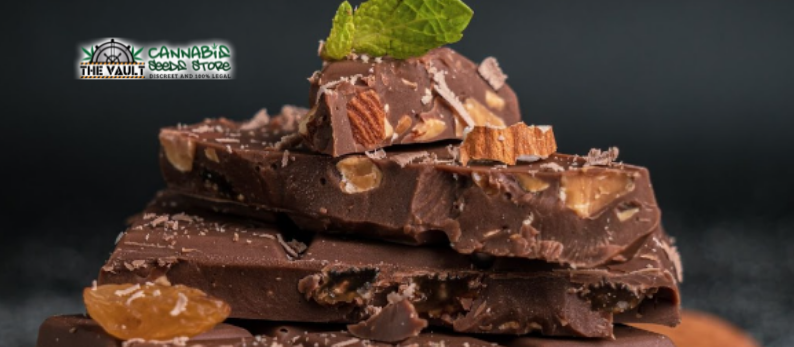 I've been craving chocolate today and so I thought I would look through some of the best weed chocolate you can buy online. I realised that this is a fantastic idea for people who have periods. If you get that hard core chocolate craving during your monthly you can kill some of that cramp pain at the same time! I think today we will look at a nice mix of THC and CBD-only chocolate for both recreation and restoration. There are so many different brands and types of chocolate available that it was hard to just pick the ones that seemed the best. But here are the top rated chocolate edibles on the market at the moment. I will say one thing before we dive in here. Just remember that this chocolate has specific amounts of THC and CBD in it for a reason, so that you can moderate your dose. Make sure you don't just go snacking down the entire bar. Have back up regular chocolate if you are really craving more. 
Kiva Chocolate Bars
This company pops up all over the shop when you start researching cannabis chocolate. They are well known for their quality as well as their variety. They don't sacrifice flavour when making their weed chocolate which for me is one of the most important things a company can do. No chalky weird tasting chocolate that reminds you of the really terrible advent calendars you used to get from pound shops. Not only do they have a massive variety of flavours, actually more than most chocolate companies have, but they stock a variety of strengths. Whether you are looking for a nice strong edible or a CBD heavy treat you can find it in Kiva's shop. 
Their average bar has 100mg of THC infused into it, which makes it 5mg per square of chocolate. This makes it really easy to regulate exactly how much you need for the best possible high. 
Big Pete's Cookies
Ok yes, these are cookies but they are double chocolate and they are extremely popular with chocolate loving edible aficionados. These indica double chocolate mini cookies are super tasty and perfect for anyone who is a little bit stressed out at the moment. The indica high as been described as 'chill as f*ck' which is basically what you want from a product like this. These are extremely popular with old school stoners because they really give you a classic zoned out happy sleepy stone. Not only that but they are fantastic for anyone who needs something to help them deal with pain. If you struggle with chronic pain or irritation that messes with your sleep, have one of these an hour or two before bed. They take a little while to kick in so you can have one after dinner and by the time you crawl into bed your body will feel like a floaty sleepy cloud. Each cookie has 10mg of THC so a pretty ideal amount for most smokers to just feel relaxed. Again they take a while to kick in so be patient and don't overdo it. 
Coda Chocolate Bars
Here we have another company selling straight up delicious cannabis chocolate bars. This company is well known for its weird and delicious flavours. One of the most popular is coffee and doughnuts which is known for the delicious mix of coffee, cinnamon sugar and milk chocolate. Although personally I'm desperate to try the maple and pecan one. Their site also has a lovely recipe section which I think is a really nice touch. They also have an education section where they tell you some amazing facts about chocolate. Their ingredients are ethically sourced and each bar contains 100mg of THC. Again this means that there is 5mg in each portion so ideal for monitoring your dosage. Most of their chocolate bars have also won awards so you know you're in safe hands flavour wise. 
Satori Chocolate Strawberries
This one is for the fruit lovers out there, though I do not understand you I do respect you. If you like something a little lighter, that still has a chocolatey coating, and is super fast acting then this is the treat for you. The high is euphoric and buzzy so they are the ideal thing to put out at a party. They also have an extremely soothing bodily effect so they are recommended as a post work-out snack. Personally I would probably just use them to really enhance a bath but I am a creature of leisure. These are also great for anyone suffering from stress or general negative thoughts as customers have stated that they make them feel happy and comfortable. Each nibblet has 3 mg of THC in them so you can usually have a couple. As they are fast acting you don't have the same worry that you might with other edibles. You'll feel how high you are pretty fast and know whether or not you can have more. 
Kat's Naturals CBD Chocolate
These bars are for those of you who aren't necessarily looking for an edible that will get you stoned. If you are looking for relaxation, relief, digestion help and a variety of other lovely things then Kat's Naturals are a great choice. The bars are made with activated hemp and are great for both body and brain. The bars take about an hour to kick in but then you feel a real wave of relief go over the body as that lovely CBD gets to work. There is THC present in the bars but it is a tiny amount, around 0.087%. Unlike the THC bars you can't really say exactly how much you should take. The company recommends just starting with the smallest serving size and working your way up until you have the desired effect. These bars don't have quite as much flavour variety but there is something for everyone. They sell a slightly minty white chocolate, a rich and delicious dark chocolate, and a slightly sweeter option in their cookies and cream.
Written by Tasha Porritt
Newsletter Sign Up
Make sure you never miss another Vault promo – sign up for our newsletter at https://www.cannabis-seeds-store.co.uk/the-vault-newsletter
Remember: It is illegal to germinate cannabis seeds in many countries including the UK.  It is our duty to inform you of this fact and to urge you to obey all of your local laws to the letter.  The Vault only ever sells or sends out seeds for souvenir, collection or novelty purposes.
Photo by Pushpak Dsilva on Unsplash
The post Top Chocolates Edibles first appeared on Cannabis Seeds News.
Source: https://www.cannabis-seeds-store.co.uk/Cannabis-Seeds-News/top-chocolates-edibles